8 Ups And 2 Downs From WWE NXT 2.0 (Sep 14)
Breakkers, axes, and Goldies made up a wild night one for WWE NXT 2.0.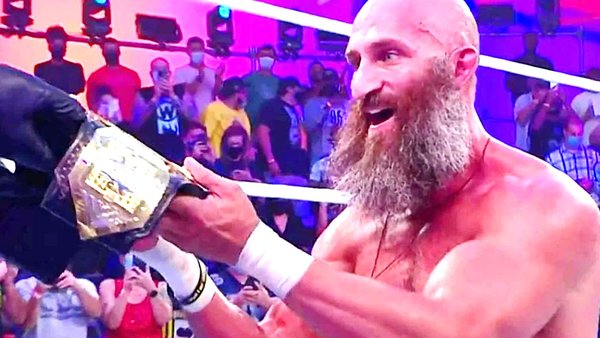 Before we even had a chance to drink in what in the holy hell NXT 2.0 was and what it would be bringing to the WWE dance, Trips and the gang were dealt a seismic blow in the form of Samoa Joe being suddenly sidelined, leaving an NXT title in limbo and an epic return in tatters.
Where there's disaster there's always opportunity in this nutty world of Sports Entertainment, however, and it wasn't long before said strap had been thrown into the night's already announced fatal four-way mix. But, oh boy, did the now-dead-and-buried-black-and-gold-turned-every-colour-imaginable have a few surprises in store for us last night.
Unexpected debuts - some admittedly more impressive and welcome than others - brand spanking new visuals, and even a bold new haircut (yes, that was a big deal, apparently) broke in the revamping of a Tuesday night product that was overdue a face-lift. Oh, there was a wedding too. LOL.
For those worried about Vince McMahon and Bruce Prichard pumping too much beef into the market for their own good, you'll be pleased to hear that, though meat was undoubtedly on the menu, last night also saw everyone's favourite ol' vanilla midget man get his moment in the sun.
NXT 2.0 is here, folks. So too are Wagners, Breakkers, and Niles. So buckle your asses up, because the developmental show as you knew it may be dead, but there are still Ups to be sowed and Downs to be crowned from the first-ever edition of multi-coloured madness...