8 Wrestling Matches That Happened For The First Time Ever In WCPW
WWE legends, indie wunderkinds, and everything in between.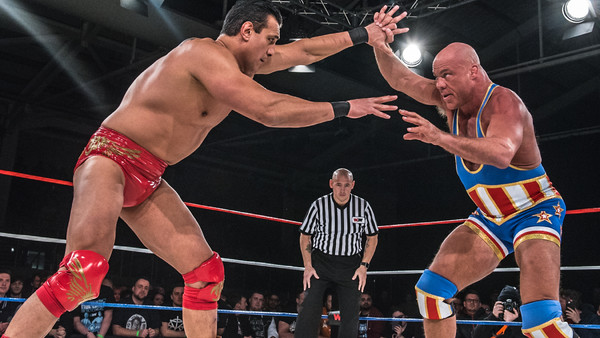 Four months after the first regional qualifying round, WCPW's Pro Wrestling World Cup is nearing an end. The USA and rest of the world qualifiers both take place this weekend, and it's onto the finals after that, with Milton Keynes, Manchester, and Newcastle playing host to the last few rounds on 23, 24, and 26 August respectively.
The brackets have already been drawn, and while four participants are still to be confirmed, Will Ospreay vs. Rey Mysterio could be the pick of the bouts. It's the first time Ospreay, one of the world's leading high-flyers, has ever faced the pioneering luchador, and a true dream match pitting one generation of cruiserweight against another with a spot in the next round at stake.
Ospreay vs. Mysterio isn't the only 'world-first' to ever take place under the What Culture Pro Wrestling banner, however. It's hard to give audiences something they haven't seen before, but things get considerably easier when you're able to call on a diverse range of ex-WWE veterans, global indie standouts, and upcoming British talents. Such contests have become a regular occurrence in WCPW, and while Rey and Will are next, they almost certainly won't be the last...
8. Cody Rhodes Vs. Drew Galloway
Cody Rhodes and Drew Galloway were both on WWE's main roster from 2009 to 2014, but never crossed paths in a televised singles match. They wrestled a couple of tag bouts and worked a few of house show one-on-ones, but until WCPW put them together on 30 April 2017, they'd never gone mano a mano with the cameras rolling.
They fought as part of the World Cup's Mexican Qualifying Round card, and with his WWE return completed at NXT TakeOver: Orlando, it was Drew's last WCPW match. After a methodical start, the action escalated with shoulder blocks and bodyslams, before Drew flattened Cody with an overhead belly-to-belly suplex into the corner, then left the ring for a table.
Shenanigans took over. Referee Joel Allen took a bump and Brandi got involved, but paid for it when Drew booted both her and her husband through a table. A Drake interference was thwarted by commentator Stu Bennett (the former Wade Barrett), but the chaos eventually subsided, and Rhodes stole a flash pin by sitting down on a sunset flip.
Galloway left WCPW on a defeat, but thanked the fans for their support afterwards, pledging to become the first British WWE Champion.