9 Ups And 1 Down From WWE NXT (Aug 3)
Did Dexter Lumis get the girl on this week's WWE NXT?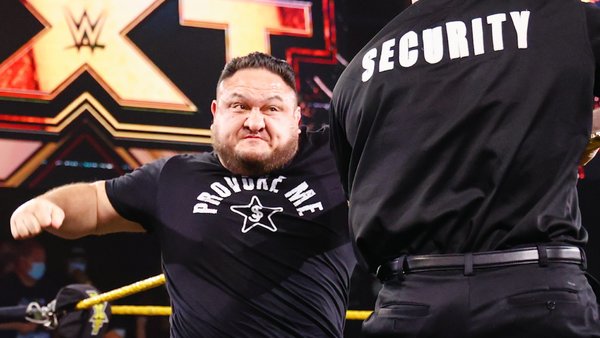 You have to hand it to the minds behind the black and gold brand, they're definitely going out of their way to bring as much variety as humanly possible to their Tuesday night extravaganza.
On a night that boasted a one-on-one technical battle between two seasoned veterans, a brawl between a Samoan Submission Machine and a fleet of security, and a riveting piece of Breakout action, we were also treated to flying squid, a dude wrestling in a butler outfit, and a father figure fight to keep an abductor away from his protege. Fun for all the family.
You could argue that the real MVP (or Yellow Highlighter of the week, for those who know) came in the form of the NXT production team. Putting together a string of captivating promo videos, we had Dakota Kai convincing us all to see her sudden change of heart from her P.O.V., WALTER and Ilja Druganov reminding us why their round two showdown may possibly be the dark horse of TakeOver 36, and a reminder of why Samoa Joe is perhaps the greatest NXT superstar of all time.
With a show pumped with this much variety, though, there's always bound to be some things that just don't land as much as others. Looking at you, the person responsible for feeding Ikemen Jiro to the biggest ball of Yorkshire muscle this side of the Atlantic.
Before you we have a chance to love you or lose you then, let's jump straight into the only real issue before revelling in a night that can, in general, be classed as another satisfying success.