9 Wrestlers Who Refused To Lose
9. Chris Jericho (Judgment Day 2000)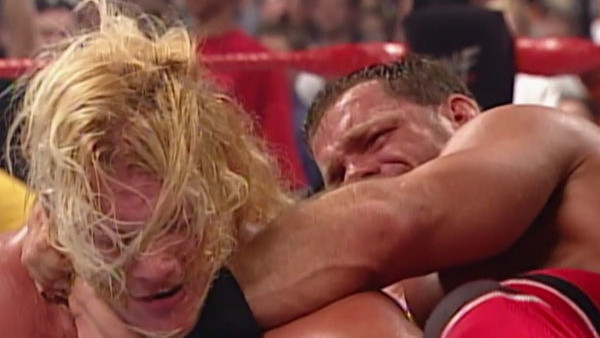 WWE was overrun with CANADIAN VIOLENCE in the spring and summer months of 2000 as Chrises Benoit and Jericho waged war over the Intercontinental Title.
After a DQ finish to their match at Backlash and weeks of both men putting the other in their Crossface and Walls submission holds, it was decided that they were face off once again at Judgement Day, this time in a submission match.
The contest was hard-hitting, strong style stuff that you don't often see on WWE programming, or at least didn't back then, as both men dished out and withstood tremendous punishment. Neither one dared say 'uncle' and, in the end, it was the Rabid Wolverine who walked away the victor, but not because Y2J tapped out or uttered a word of surrender.
No, the Ayatollah of Rock and Rolla simply passed out as he was locked in the Cripple Crossface, with Benoit's hands clasped tightly around his neck and throat. Uncomfortable viewing today, given the events of June 23-25, 2007, but character-building for Jericho back then and a textbook piece of babyfacery.