AEW's HUGE Full Gear 2023 New Signing REVEALED?
A massive wrestling star looks set to officially become All Elite at Full Gear 2023.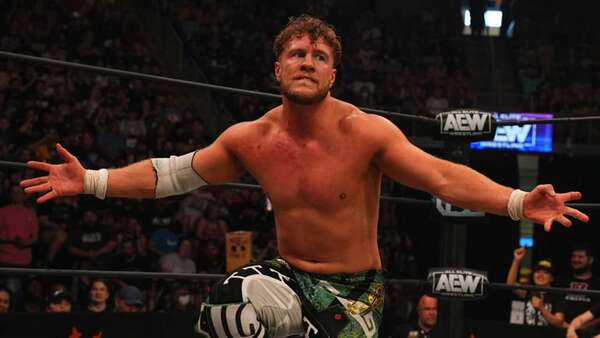 Will Ospreay is seemingly about to become All Elite.
In the wake of AEW President Tony Khan noting on X earlier this week that he'd signed "one of the world's best wrestlers" to his promotion and that this new signing would be revealed at Saturday night's Full Gear 2023 event, Andrew Zarian on the Mat Men podcast has provided one hell of an update (via F4WOnline).
Zarian explained how he'd recently been informed that the mystery signing was none other than the 'Aerial Assassin', a star WWE were reportedly interested in bringing in next year.
AEW has agreed to terms with one of the world's best wrestlers, a pro who is known + respected by virtually every @AEW fan! They'll come to LA to sign their contract THIS SATURDAY 11/18 on ppv at #AEWFullGear!

See you TONIGHT on TBS for the final #AEWDynamite before Full Gear!

— Tony Khan (@TonyKhan) November 15, 2023
At this current moment in time, the former IWGP World Heavyweight Champion is still under NJPW contract. And he'll remain with the company up until to the end of January 2024. But there is a chance the two companies could have worked out a deal as Dave Meltzer of the Wrestling Observer Newsletter explained on Observer Radio recently:
"The one thing with Will Ospreay is with New Japan and AEW being business partners, I think that if they could make a deal and it would involve him being able to still do big New Japan shows, I don't think New Japan would stand in the way of an announcement or anything like that, knowing that he's not going to WWE, meaning that they can still work together."
This news also seemingly rules out the likes of Mercedes Mone or Ronda Rousey as the top new signing AEW are set to announce at the event. But in another interesting note, Meltzer also revealed on Thursday's WOR that he'd been told two different names from two different people when it came to this massive All Elite signing.
So, while Zarian's reveal of Ospreay becoming fully All Elite could turn out to be the truth, there's still a chance TK could have another unexpected world class performer up his sleeve.
All will be revealed in just a few hours.