AMC Want To Buy WWE? - Merger Rumours Drive Stock Spike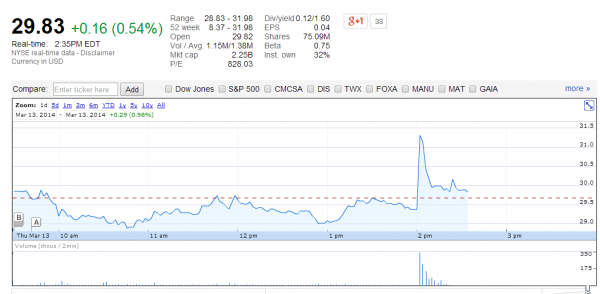 With $WWE Stock trading at all-time highs, investors have been keenly monitoring daily news as they struggle with how to value this wacky Entertainment Enterprise. For a minutes after 2 PM (EST), stock in the world's largest Professional Wrestling company shot up from $29 to above $31. Apparently this was driven by a
rumor that AMC Networks Inc ($AMC) was interested in buying $WWE.
This isn't the first time that merger rumors regarding $WWE have surfaced this month. In last week's
interview with BloombergBusinessWeek
, CFO George Barrios denied there were any merger talks. It was also during this same interview that AMC Networks was first listed as a possible future television destination for WWE:
The company, controlled by founder and Chief Executive Officer Vince McMahon through Class B shares with added voting rights, isn't in merger talks, he said. WWE has held talks on future domestic TV distribution of its shows with AMC Networks Inc. (AMCX:US), Viacom Inc. (VIAB:US), Time Warner Inc. (TWX:US)'s Turner Networks and 21st Century Fox Inc., said people with knowledge of the situation. A renewal with NBCUniversal is also possible, they said.
Currently, the Market Cap for WWE is hovering between 2.2 and 2.3 billion USD while some optimistic investors put the future worth in the $2.6 to $2.8 billion range! It's also possible that this momentary jump was a "
short squeeze
", where the stock price jump triggered a rush of buying from short sellers in order to cover their positions.
WWE has become a hot stock lately
as there's been oodles of speculation regarding the future of WWE and the possibility of an enormous jump in Domestic TV Rights Fees. Others believe the innovative WWE Network will become an enormous success that will attract enough subscribers to generate massive profits. (On the flip side, there's also been much written about
WWE Network's risks
and
controversies
.) Some investors believe that WWE will achieve a substantial boost to $200M-$300M annually with the new television contract due to the highly loyal viewership and DVR-proof programming. To achieve this, WWE needs many networks not only to talk, but more importantly to bid. If WWE can successfully play Viacom against NBCU, they have a serious chance at getting their big bump in television revenue. Thus far, things appear to be going much smoother than during the Spike to USA transition where WWE ultimately ended up with a much weaker hand.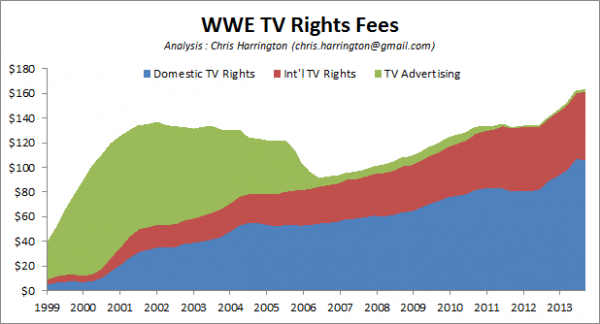 With WWE Stock at an all-time high, there's many steps WWE can take in order to stay successful. WWE certainly hopes they can ride this wave of investor interest to a fruit culmination! As for merger talks, longtime WWE fans cannot imagine a company which is not run and controlled by Vince McMahon (and his family). However, is it possible that a television network would rather outright purchase the WWE (say for $3 billion) rather than pay an inflated price (say $300M/year)? It seems impossible to conceive that the bombastic billionaire would turn over his company to someone else. Then again, maybe he'll just do "what's best for business".
Create Content and Get Paid
---