Anarchy In The UK: Are WWE Still Feeling The Pressure From ITV's World Of Sport Reboot?
The hallmarks are all there from WWE's first foray into the thriving British scene in early 2018 - Pete Dunne and Tyler Bate will feature prominently, the United Kingdom Championship will be on the line, and the stunning interior will again bring together the old-time British aesthetic they adore with contemporary in-ring style. Most notably, the company are again keen to stave off a barely-there 'threat' from Britain's Got Talent off-season schedule-filler World Of Sport, itself pulled back from relative obscurity after a broadly enjoyable one-off that aired on New Year's Eve 2016.
10 new episodes will air later in 2018 in a Saturday slot on the terrestrial channel, but on prior evidence the product will only really serve as another shop window for some of the talent not yet hoovered up by the WWE empire rather than as a gateway into the industry at large. And WOS' very child-friendly and sanitised presentation will actually lend itself to bolstering Vince McMahon's vision of Sports Entertainment anyway. It's hard to imagine parents being convinced to drop between £50-80 on Royal Albert Hall tickets to see 'The Bruiserweight' and Moustache Mountain go hold-for-hold with The Undisputed Era by their newly-addicted children when those same kids can drown in content for £9.99 a month from the comfort of their own iPad.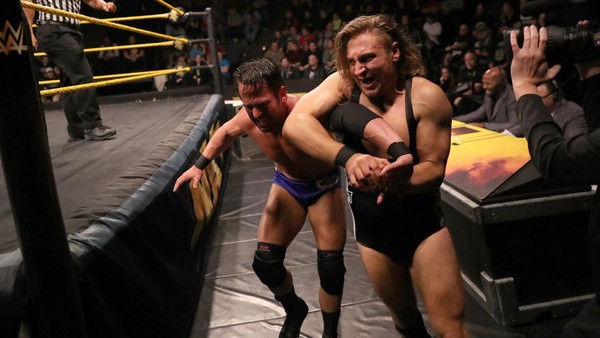 WWE have been immune to such rationale for nearly two years now anyway. There are still whispers around a possible Performance Center-like complex launching in the UK but lots of other discussion's have gone quiet. Meanwhile, prior relationships with ICW, Progress and other popular groups haven't yet seen those companies crumble and fade as many predicted they would the instant they linked arms with the empiric McMahon clan. But until WWE outline whatever the f*ck it is they want long-term from this as-yet-unproven experiment, it's likely the returns will continue to diminish - not least when World Of Sport yet again disappears into the ITV ether.
We need more writers about UK Championship, Toni Storm and Pete Dunne! Get started below...
Create Content and Get Paid
---
Michael Hamflett
We Need To Talk About Kevin (Nash). Michael can be found in articles or on podcasts extolling the virtues of New Generation WWF, New Japan Pro Wrestling or the new WWE angle they definitely definitely won't ruin this time.
See more from Michael