Backstage Update On Kurt Angle's New WWE Role
The Olympic Hero has taken up a position behind the curtain.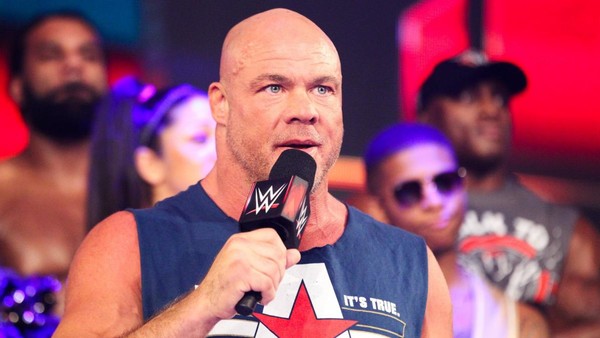 Having retired earlier this year at WrestleMania 35, PWInsider has an update on what Kurt Angle's current WWE role is.
After spending the past several months shadowing WWE producers in an effort to learn what that position requires, Angle has now reportedly taken up a full-time position as a producer for the company.
Many wondered why the Hall of Famer was at Madison Square Garden this week – the Olympic Hero taking to his Instagram page to reveal his MSG attendance – and that was because he was working backstage and helping to produce matches.
As alluded to, Angle brought his illustrious in-ring career to an end this past April in a losing effort against Baron Corbin. When all was said and done with the Olympic gold medallist's pro wrestling career, Angle had won pretty much everything there is to win as he amassed plentiful world championships, secondary titles, tag team success, and accolades and awards for his work in WWE and Impact Wrestling.
Kurt Angle is undoubtedly one of the greatest of all-time, and knowing that he's involved in helping shift the WWE stars of today and hopefully tomorrow is most definitely a good thing. Oh, it's true. It's damn true.