Batista To Make WWE Return This October
Evolution to reunite - including Big Dave.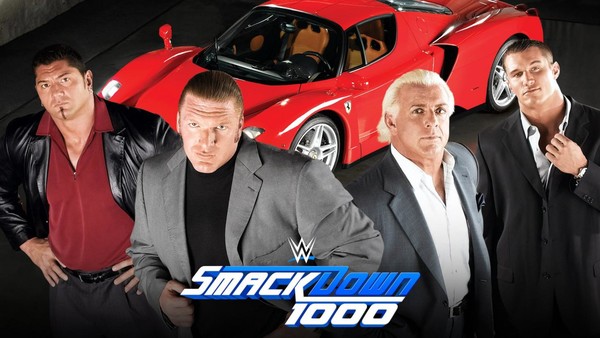 WWE have confirmed that Dave 'Batista' Bautista will return to the company as part of their SmackDown 1000 celebrations on 16 October - his first appearance for the promotion in over four years.
In a WWE Now video on their official YouTube channel, presenter Mike Rome revealed that Triple H's Four Horsemen tribute band Evolution are set for a reunion on the landmark show - quite specifically noting that Batista will be there alongside The Game, Randy Orton, and Ric Flair.
Batista quit WWE under a cloud for a second time in June 2014, citing those pesky 'creative differences' as the reason for his departure. Big Dave's disgruntlement was understandable; his popularity was massively undermined when he was drafted in for a Royal Rumble victory and WrestleMania main-event opposite former stablemate Orton at the expense of fan favourite Daniel Bryan. Anyone with an ounce of sense could have predicted how that plan would have went down - apart from WWE themselves.
Despite the fallout, residual animosity has been slight on Bautista's part, who has repeatedly made clear his desire to set things right with one last run. Approaching 50, time is ticking. It's not clear at this stage if this SmackDown cameo is a one-off, but it certainly wedges the door wide open for a future, more profitable appearance. Like around WrestleMania season, say, or in a certain Arabian kingdom.
SmackDown 1000 is scheduled to take place on 16 October from Washington, DC. Rome promised that this announcement is just the tip of the iceberg, so check back for more updates as they emerge.
Create Content and Get Paid
---