Bret Hart's WrestleMania Matches - Ranked From Worst To Best
The Hitman's WrestleMania record features great highs and terrible lows. What was his finest bout?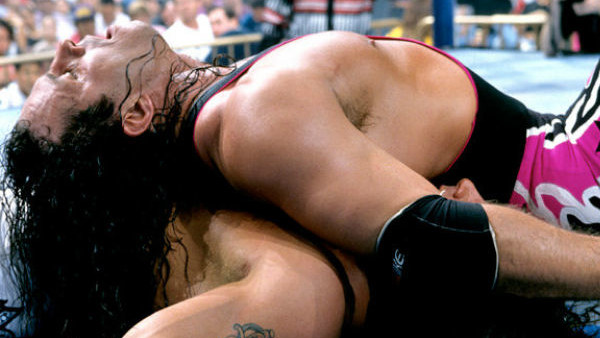 It could be argued that of all the men and women to compete at WrestleMania, it is Bret Hart's career that is most clearly represented and showcased through the event. 'The Excellence of Execution' started out with the World Wrestling Federation in 1984, and over the next 13 years would rise from tag team standout to in-ring general to the overall face of the company.
His WrestleMania record mimics this. Although he missed the first WrestleMania, Hart performed at every following WrestleMania up until WrestleMania XIV, by which time he had jumped ship to World Championship Wrestling following the infamous Montreal Screwjob. It would be over a decade before he returned to the company, which also included one last WrestleMania 'match', although the use of that term is fairly liberal in this example.
His WrestleMania record is also one of wildly diverging match quality, as you will find out by reading on. He took part in two of the all-time great WrestleMania matches, but also performed in some genuine stinkers. He appeared in the third shortest match in WrestleMania history (it held the record for 18 years), and also battled in its longest. He won titles at the biggest event, and lost them too.
Bret Hart also took part in two Battle Royals at WrestleMania (II and IV) and, interestingly enough, he was runner-up on both occasions. For the record, these two matches will not be included in these rankings.
With that in mind, let's get to it!
12. Vs. Vince McMahon - WrestleMania XXVI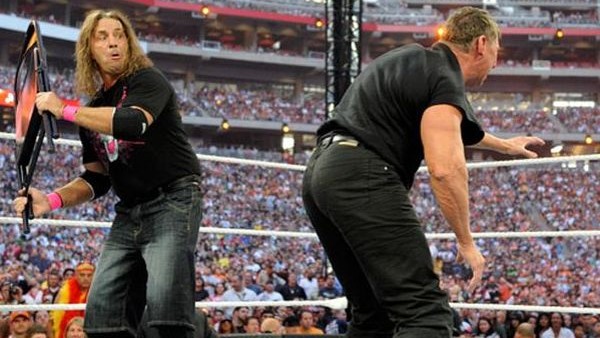 This one really should have been completely different.
After 12 long years, Bret Hart made his triumphant and emotional return to World Wrestling Entertainment, burying the hatchet in the middle of the ring with Shawn Michaels in a moment that seemed to provide real closure to perhaps the ugliest act in WWF/E history. A feud with Vince McMahon was inevitable, and a No Holds Barred match between the two was booked for WrestleMania XXVI.
After some early shenanigans involving the Hart family, Bret defeated Vince clean in the middle of the ring with the Sharpshooter. Before this, Vince received an almighty beating, a much deserved flaying that provided something approaching a receipt as well as some pathos for the whole Montreal Screwjob business. The story ended in the right way.
So why so low on the list?
Somehow, WWE managed to book Bret Hart's redemption against Vince McMahon in a way that the viewer almost felt sorry for Vince. The beating lasted over 11 minutes, and with each passing moment the boredom increased. Watching it live was a painful experience for all involved. Sure, Bret couldn't take a bump at this point and neither should he have, but if the match was to be a one-sided mauling then a couple of minutes would have sufficed.
To put this in perspective, the match was almost twice as long as the CM Punk/Rey Mysterio match that preceded it.