Britt Baker On AEW's Most Toxic Trait
Only Tony Khan is truly indispensable in AEW, says Britt Baker.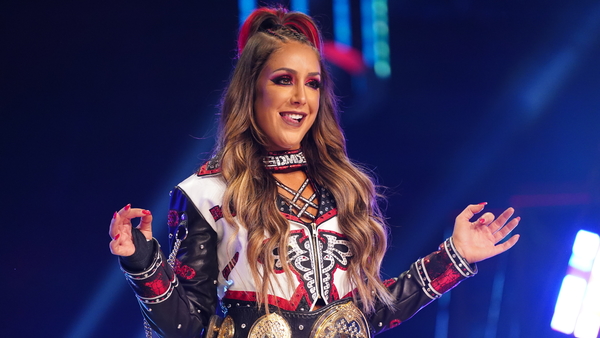 In the wrestling business, nobody is bigger than their company - apart from the person writing the paychecks.
This is according to former AEW's Britt Baker. The former Women's World Champion made this comment during a recent appearance on rostermate Swerve Strickland's Swerve City podcast, doing so in between praise for AEW's "amazing" roster and boss Tony Khan, whom she called "the most caring, wonderful guy."
Baker said the following on wrestlers who consider themselves bigger than the company, stating that Khan is the only person AEW truly needs to survive (h/t SEScoops):-
"What's so toxic is when somebody thinks they're bigger than the company. Or that the company needs them. There's literally no one in AEW that they need, other than Tony Khan to survive. Everybody can be replaced."
At a time when noted on and offscreen rival Thunder Rosa is currently sidelined through injury, Britt also spoke on how she has worked through such issues herself:-
"I never missed any episodes of TV, with every like broken bone and injury. I'm just sayin'. What bone have I not broken at this point? My leg, my nose twice now, my wrist, the concussion, and I was at work every week because that is where I wanted to be. I had my nose surgery on a Monday, Dynamite was on a Wednesday, and I was there cutting a promo. Because I wanted to be. Tony (Khan) is the most caring and wonderful guy. But I was like this is an opportunity, I'm going to have a black eye, I'm sick in the head and thought I'm going to look cool."
Britt and Thunder Rosa have been at the heart of one of AEW's most notorious backstage beefs in 2022. In August, it was reported that Rosa, the reigning Women's World Champions, also had issues with Jamie Hayter, Britt's onscreen ally, who is purported to have caused Rosa to hide in a bathroom.
Baker acknowledged on Swerve City that she and Rosa aren't on the best of terms. Nonetheless, she thinks the situation makes for good television:-
"It is kind of like The Batman and Joker, like one needs the other for the success story to happen. We don't like each other. There's always tension but that tension makes good TV. So, I still think it's my division."
There is currently no concrete word on when Thunder Rosa will return to television, having undergone physical therapy for her injuries.