Brock Lesnar Re-Signs With WWE
WWE's special marquee attraction agrees "multi-year" deal.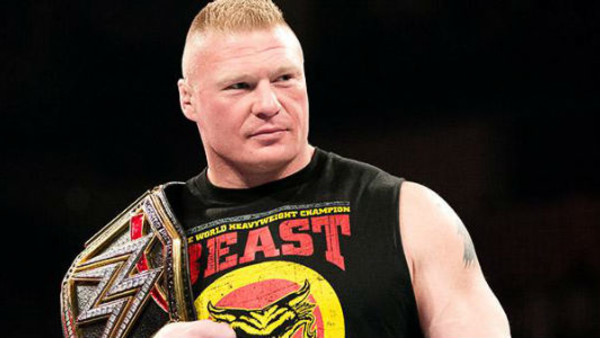 WWE Champion Brock Lesnar has re-signed with WWE, agreeing to a "multi-year contract" that replaces his current deal that was due to expire this WrestleMania season. Lesnar revealed the news in an interview with Michelle Beadle on ESPN's SportsCenter and it was soon confirmed on
WWE.com
. Triple H then revealed on Twitter that it's longer than a one-year extension... https://twitter.com/TripleH/status/580501834005131264 The former UFC fighter was at one point hotly tipped to return to MMA when his WWE expired and when he walked out on an episode of WWE Raw shortly before he was due to appear some weeks ago, he certainly looked like he was readying for a future elsewhere. But in recent days, talk of WWE having the upper hand in negotiations (they clearly allowed Paul Heyman to tease the fans with the "unifying" the WWE belt with the UFC Heavyweight gold in the summer, something they would never have done if they weren't confident of keeping him) were strong and have now proved true as they have secured their special marquee attraction, presumably for another year. It was important for WWE to secure Lesnar's future before Sunday's WWE title showdown with Roman Reigns and now the outcome of that main event suddenly becomes a lot harder to predict. With Lesnar expected to be the huge babyface with the crowd, it will be interesting to see if they stick with their prior plan of Roman Reigns taking the belt in the hopes of elevating a new star, or whether they continue with a part time champion who they are paying a helluva lot of money for limited dates. Of course there's also the Seth Rollins "Money In The Bank" briefcase option. As for Mania 32... WWE fans can rest assured he'll still be around. That
long-awaited rematch
with The Rock has just taken one giant leap closer.
Create Content and Get Paid
---