Exploring 6 Different Scenarios For WWE Title Match At WrestleMania 31
The most unpredictable WrestleMania main event in years.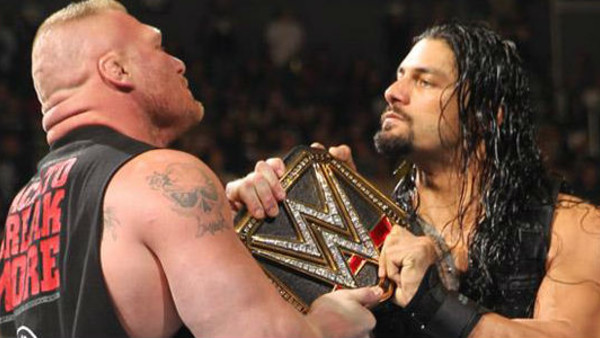 The news of Brock Lesnar re-signing with WWE has opened up a number of possibilities for the WWE Title match at WrestleMania. If we knew that Lesnar was leaving after WrestleMania then he would have had to drop the title to Roman Reigns or perhaps Seth Rollins via Money in the Bank cash-in. Now that we know Lesnar is staying, there are several intriguing options. Following Monday's Raw with that lame "tug-of-war" like ending where Lesnar and Reigns were both grabbing at the WWE Title as if they were kids battling over a teddy bear, the build to this match was considered weak. Sure, Paul Heyman's promos have been amazing, but WWE didn't do any physical between Lesnar and Reigns. Now that people know that Lesnar is staying in WWE there's a huge buzz about the match. Social media was on fire immediately after the news aired on ESPN and people are happy because they know Lesnar is a big name. Some people don't like Lesnar since he's only going to work four matches in a year most likely, but when you watch him in that ring you know he belongs in WWE. He said it himself. He loves his job. It's time to take a look at some of the different scenarios that could happen in the WWE Title match on Sunday with Seth Rollins' Money in the Bank briefcase as a strong option that can factor into the finish. WWE hasn't teased it, but we know it's definitely in play. Here are six of the scenarios that could happen during WrestleMania's main event.