Exposing The Modern Myth About WWE WrestleMania
When did the WWE's "Grandest Stage" become the company's biggest lie?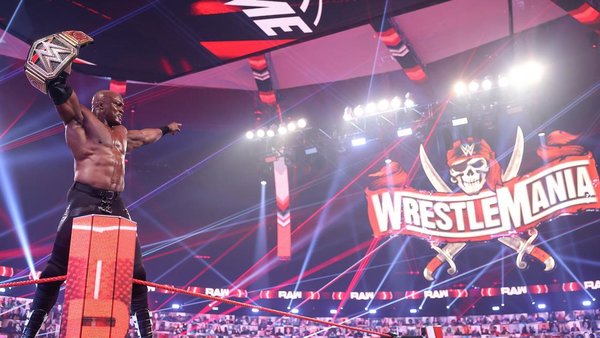 The March 1st 2021 edition of Monday Night Raw will only ever be remembered for one thing, and it's to the immense fortune of future WrestleMania opponents Shane McMahon and Braun Strowman that that's the case.
Bobby Lashley's emphatic WWE Championship victory was a significant moment for the new titleholder's character, building on a remarkably careful push that started the moment 'The All-Mighty' reunited with old Impact Wrestling pal MVP. Together, the two of them built The Hurt Business brand and rebuilt the Bobby Lashley to the point where the act as a whole was undeniable.
Having dethroned The Miz with just a month to go before the 'Show Of Shows', Lashley can confidently prepare to wrestle in one of WrestleMania's major matches, very probably against Drew McIntyre. The pairing would be a fine exhibition of WWE's once-rigid schedule still showing itself to be functional - Lashley and McIntyre had fabulous 2020s, and we as fans have always been sold on WrestleMania being as much about rewarding the year's work as it is about settling the biggest grudges.
It's with those long-respected and understood parameters in mind that we mournfully return to Shane McMahon and Braun Strowman's segment, with a premise as imbecilic as its key players, and a wholly different Road To WrestleMania that circumvents self-respect and singular success entirely.
Or - because McMahon keeps telling us Strowman wouldn't understand any of that - why any of this f*cking sh*t is about to feature on one of the most important shows in WWE history.
(CONT'D...)