Goldberg Continues To Tease Brock Lesnar Feud & WWE Return
"Who do you want to see me strangle?".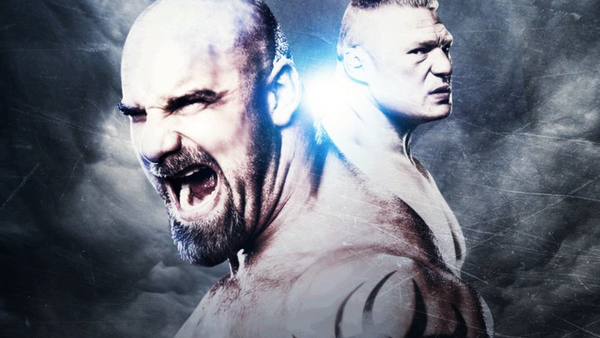 As the release of WWE 2K17 approaches, much of the news coming from the promotion of the latest instalment in the series is about more than just video games.
While in Germany to build hype for 2K17, former WCW and WWE superstar Bill Goldberg continued to work the rumour mill that a return to the ring may be on the horizon.
Goldberg has been heavily promoted as a pre-order exclusive character, and cover star Brock Lesnar appeared in a brief video where he taunted his WrestleMania XX opponent with the use of his own catchphrase, telling Goldberg that "he's next".
This has led to some exchanges and a massive amount of speculation among fans who would love to see the two behemoths lock it up once more, this time - hopefully - with a greater level of motivation involved.
Goldberg responded to Lesnar with a threat:
"I should be on the damn cover because I killed the guy who is going to be on the cover. Brock knows what would happen. Brock knows where I live. Brock knows that I own a muay thai gym and he can show up whenever he wants. And the same thing is going to happen to him that happened in 2004".
The crowd broke out into a chant of "please come back", and a genuinely moved Goldberg replied with a statement that might provide a dose of optimism for his fans still holding out hope for one more spear and jackhammer:
"For you guys, I'll see what I can do. All I can tell you is the truth...that tomorrow morning at 6:55 I'm getting on a train and I'm going to Frankfurt. And I'm going from Frankfurt to New York City, and that's all I can say about that. But you never say never, even when you're my age, because I have no issue putting the tights and the boots on and those gloves and ripping people's faces off again. All I need is the opportunity to do it. So all I can say is all you fans out there keep doing what you're doing and it'll happen. The question is: Who do you want to see me strangle?".
For a man nearly fifty years of age who hasn't been in the ring in over a decade, Goldberg still appears to be in damn impressive shape, and although his previous WWE run was a disappointment for all parties involved, there's no doubt seeing him back in the ring for a brief run would stir up fan interest among those nostalgic for the Monday Night War era.
Every year around WrestleMania season rumours start to kick into high gear that his return is imminent but it never materialises, with his asking price always reported as the sticking point, which he all but confirmed in this interview.
He stated:
"I will do whatever I can within my power to give you what you want. Because I may be 49-years-old but I'm ready to go at any time, any place, and anywhere. All I need is the call. From the bottom of my heart it's not up to me. Because if it was up to me I'd come out and I'd give you what you want".
It's very possible that this is all nothing more than clever promotion for the impending video game, but we've seen this before with The Ultimate Warrior and Sting, two men we never expected to see in WWE.
Create Content and Get Paid
---