How Nyla Rose's Championship Win Exposed Wrestling's Diversity Problem
Nyla Rose's title win is a big step forward for diversity in wrestling, but more needs to be done.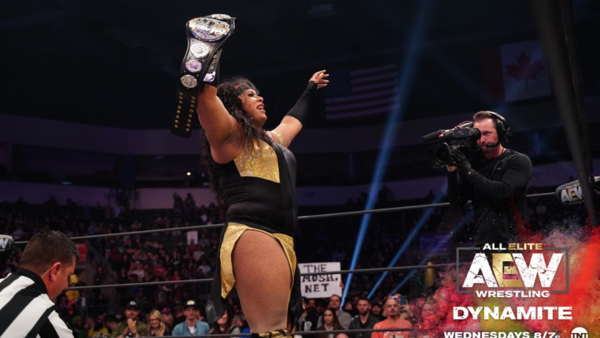 On the 12 February 2020 episode of All Elite Wrestling Dynamite, Nyla Rose defeated Riho to become the first ever transgender wrestler to win a championship in a major wrestling company. The match itself was excellent; not only might it be the best match of both Nyla Rose and Riho's careers, but the match was probably the best women's match in AEW's short history so far.
At a nice 13 minutes in length, the bruiser Nyla Rose predictably used power moves to disarm her 98 pound opponent, who managed to fight back against her much larger foe, acting as the ultimate underdog with great strikes and high-flying offense. This turned out to be a great installment of their rivalry. These two have fought three times before: the first was back in June of 2019 in a three-way match also featuring Yuka Sakazaki, they fought on the very first episode of AEW Dynamite in a match that crowned Riho as AEW's first Women's Champion, and they were both featured in a four-way match that also featured Britt Baker and Hikaru Shida.
The Nyla Rose versus Riho rivalry flipped the typical "scrappy underdog overcoming the odds to win the big match" dynamic on its head. Sure, Nyla Rose is the biggest woman on the AEW roster, but Riho had pinned her in their first two encounters, and even though Nyla Rose wasn't pinned in their third match, Riho still came out on top. Riho was the hero and Rose was the villain, but it made sense for the villain to end up the winner.
Riho is a great wrestler, and she's definitely made a connection to the crowd, but many of her matches have been relegated to AEW's YouTube-exclusive show, and when she does get to wrestle on TV, a good majority of her matches end up being subpar anyways. It doesn't help her case that she's also the High Speed Champion in Japan's World Wonder Ring Stardom, meaning that she had prior commitments as well. For Riho's sake, it's a good thing that she's no longer AEW Women's Champion so that she can actually defend her Stardom Championship (since winning the title in August, she only defended the title once). Meanwhile, Nyla Rose is an AEW exclusive. She'll be there no matter what, and even if some of her matches have been duds, she's had a lot more higher-quality matches compared to Riho while being a part of AEW.
Of course, her win goes a lot deeper than that. Not only is Nyla Rose the first transgender champion of a major wrestling company, she's the first transgender professional wrestler many have ever heard of (me included). I take some of the blame for that because I wasn't looking in the right places. A Matter Of Pride Wrestling, Rise Wrestling, and Uncanny Attractions had been booking LGBT and gender non-conforming wrestlers as long as they have existed.