How Nyla Rose's Championship Win Exposed Wrestling's Diversity Problem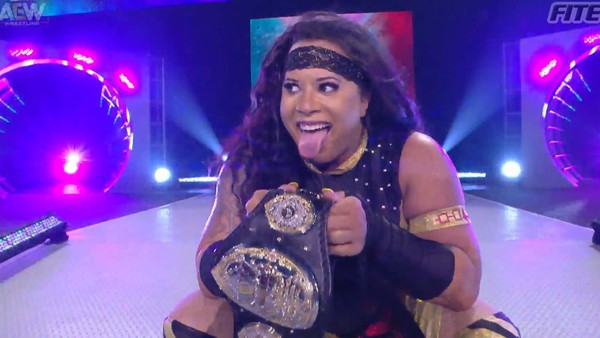 Some major companies have made efforts to be more inclusive as of late, whether through hiring LGBT and gender non-conforming wrestlers in the first place, or through supporting them if or when they do come out. WWE's Piper Niven, Shayna Baszler, and Sonya Deville are all members of the LGBT community, and Impact Wrestling's Diamante and Kiera Hogan are currently dating while being prominent members of the Impact roster. Both Jake Atlas and Mercedes Martinez, who were both some of the most popular LGBT wrestlers on the independent wrestling scene, were both recently signed to WWE as well.
When it comes to transgender or gender non-conforming wrestlers, they are a lot less visible on a wide-scale level. Australian wrestler Candy Lee, Pro Wrestling WAVE and SEAdLINNNG's ASUKA, self-proclaimed punk rock queen Jamie Senegal, and CHIKARA fan-favorite Still Life With Apricots And Pears are all extremely talented wrestlers who identify as transgender or gender non-conforming, and are killing it around the world without having appeared on (American) television yet. This is part of the reason Nyla Rose winning the championship is such a big deal. Nyla worked extremely hard for years to get to this point in her career, and when given the opportunity as a reward for her hard work, she excelled on the national level, using her platform to help those like her and educate those who don't identify the same way she does.
As a straight white cis-gendered male, I have never felt as if I didn't belong as a wrestling fan, but there are a lot of wrestling fans who feel like they don't, because bigoted wrestling fans or bigoted wrestlers themselves have made it clear that the things that the fans cannot change about themselves (and SHOULDN'T change about themselves) disqualify them from being a part of this community. Yes, I'm talking about the racists, the sexists, the homophobes, and anybody else in the business who discriminates against those who don't look or live as they do.
There are not a lot of people like Nyla Rose given opportunities to be on national television, never mind wrestle in front of thousands of people every week, so when someone like her enters the limelight, it gives people who identify the same way the opportunity to see someone like themselves on their TV screen, which is hugely important. This idea is why Kofi Kingston's title win at WrestleMania in 2019 was so inspiring; that's why the #GiveDivasAChance hashtag and the Women's Revolution were so monumental; that's why Kenny Omega and Kota Ibushi's Golden Lovers storyline worked so well; and that's why Tessa Blanchard winning the Impact Wrestling championship could have been a great moment (had she not been a total racist of course).