How WWE Destroy Their Own Creations
Dave Batista & Triple H tease another WrestleMania tussle, but are the company just teasing *us*?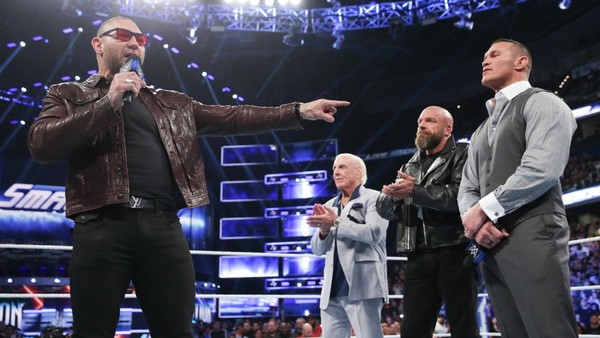 SmackDown 1000 was a better show than Raw 25, and not just because for much of their respective tenures the blue brand's actually been a better show overall.
At January's supposed celebration, the company stumbled so often that it was little wonder they felt the need to hold their most hardcore audience hostage in the Manhattan Centre. WWE, even at it's very worst, has always been good at nostalgia. Pick your personal worst period, and there'll still be a glimmer of light within that product shining towards 'The Past' - a time where you loved WWE and it felt like WWE still loved you.
Raw 25 was a worrying sign that the company were even losing grip on how to do that right. SmackDown 1000 partially recovered it, but in the most SmackDown thing ever, won't have remotely earned an audience for it because the company couldn't be a*sed to promote it as well as the flagship's quarter century shindig.
Fans and wrestlers alike felt the anger on that divisive January night. On the company's own website, Stone Cold Steve Austin was ripping into petrified Mike Rome whilst Twitter revealed videos of infuriated fans stuck in front of a big screen in between a Bray Wyatt/Matt Hardy match and the worst Undertaker appearance of the year.
Like everything else they've conditioned fans to love, WWE were killing nostalgia - an ordinarily indestructible force, an ordinarily immovable object - in front of those best served to appreciate it.
And now they've looked to the past to potentially set up a huge WrestleMania match in the future. Is it foolish to assume it won't just be badly mishandled too?
CONT'D...