How WWE Might FINALLY Bring A Big Four PPV Back To The UK
Stay tooned.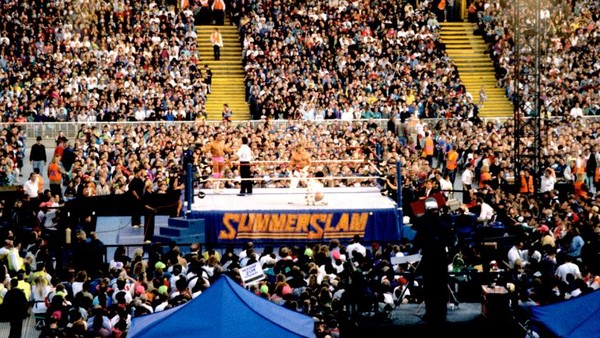 For almost three decades, fans in the United Kingdom have clamoured for another major pay-per-view.
No, not the UK "exclusive" or "special" pay-per-views, the designations of which - beyond the actually fantastic One Night Only from 1997 - were ultra carny. Insane and memorable as it was for 13 year-olds to see their first pair of IRL cannons in the form of a staged Jacqueline wardrobe malfunction, the PPVs were piss-poor, barely-canon glorified house shows that the wrestlers treated as something to get out of the way before embarking on European sexcapades. These events were decidedly not SummerSlam 1992.
SummerSlam '92 is an immortal show, one so deafening and vast and gorgeous and vital that its rubbish undercard didn't matter. All 80,000 fans went apesh*t, so obsessed were they with the stars of the WWF they watched religiously on the nascent Sky Sports - for a generation, the first viable time Brits were able to watch more than four TV channels. The colourful, bruising giants of the WWF were as popular on these shores as they were across the Atlantic a few years prior. Crush Vs. Repo Man was awful, but incredibly popular, and that intoxicating atmosphere - fused with genuine pro wrestling brilliance in that classic main event double header - made for a night UK fans have refused to let go for decades.
It's more vivid to us than countless shows the company has produced since.
CONT'D....(1 of 5)