Hulk Hogan Can't Feel His Legs After Back Surgery
Hulk Hogan "had the nerves cut from his lower body."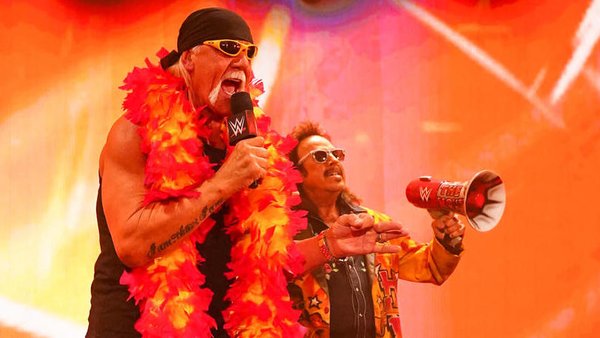 Hulk Hogan can no longer feel his lower body.
That's according to fellow WWE legend Kurt Angle, who revealed on his latest episode of The Kurt Angle Show that he had a conversation with The Hulkster for about half an hour during this week's RAW is XXX celebration show.
And it was in that chat with The Immortal One that Angle discovered Hogan's latest back surgery has now left him not being able to feel his "lower body".
The Olympic Hero actually revealed during the podcast that Hogan "had the nerves cut from his lower body", with the returning star now now being forced to use a cane to walk around.
And while Angle first assumed that said cane was being used due to the pain Hogan must've been feeling in his battered back, it was soon made clear that the former WWE Champion couldn't feel anything at all, his legs included, and that's why he's being forced to walk around with the walking stick going forward.
Hogan kicked off this week's much-watched RAW is XXX show. And Angle would note how he felt that was the right call on the night:
"He's the name and face of the company. He's the guy that revolutionised pro wrestling. I have so much respect for him."
Angle himself, who popped up alongside D-Generation X on Monday night, also recently underwent surgery on both of his knees last year, with Kurt admitting around the time that he also had a bit of a back problem that left him not being able to use his legs for a spell, too.
Create Content and Get Paid
---