Jey Uso Out Of WWE Action For Six Months
Jimmy's gonna need to go solo until late in the year.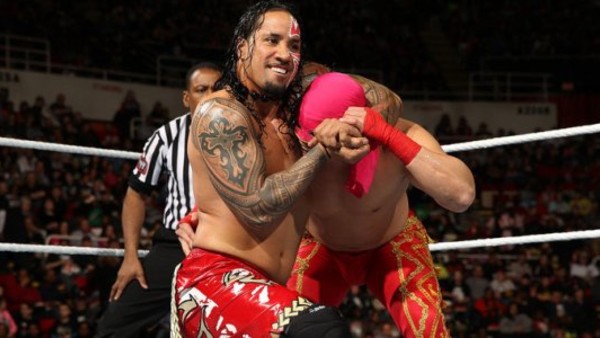 Jey Uso has been out of action for about a month with a shoulder injury. WWE ran tests to see how serious it is and it turns out the news is pretty bad because Jey will be out of action for about six months. The news comes from
WWE.com
: €œAt WrestleMania, Jey suffered an anterior shoulder dislocation on the left arm, which was later evaluated back in Florida,€ said WWE physician Dr. Stephen Daquino, who also confirmed that Jey underwent surgery last week to tighten his rotator cuff and shoulder capsule to repair the injury, which had been aggravating him leading into WrestleMania. It looks like return is estimated about six months.€ The injury actually happened before WrestleMania, but for WWE storyline purposes they say it happened at WrestleMania because Jey was taken out before the match could get going. He actually got injured a few weeks earlier. Going into WrestleMania, there were questions about if he would even make it to WrestleMania, which was a four team tag match won by Tyson Kidd and Cesaro as they retained the Tag Team Titles. There's nobody to blame for Jey's injury. It's just one of those things that happens in wrestling. It's an injury that is similar to what Wade Barrett went through last year when he missed over six months of action after shoulder surgery. As for Jimmy, he's been working the current European tour in singles matches. That will probably continue while his brother is out and they could always use him in tag matches. It seems unlikely that he would be pushed as a singles wrestler although he's a talented performer, so WWE will put him on TV once in a while. Jimmy's wife Naomi just turned heel on Raw likely because they knew Jey was hurt, so it was good time to move her away from the team. Jimmy and Jey will turn 30 years old later this year. They are the "face" of WWE's tag team division and should be for many years to come. Since they are twin brothers who have awesome chemistry together, there's really no reason to break them up. Being off TV together for six months could help them be fresh when Jey gets back later this year, but it's obviously a big blow to WWE's tag team division. It does allow WWE to work on building up other teams so that when The Usos are back in action there are some fresh matchups for them. We wish Jey all the best in his recovery and look forward to seeing him in action again later this year.
Create Content and Get Paid
---