Kurt Angle Announcement: He's Not Going To Fight For Bellator
Angle's announcement turned out to be an appearance at a fan festival.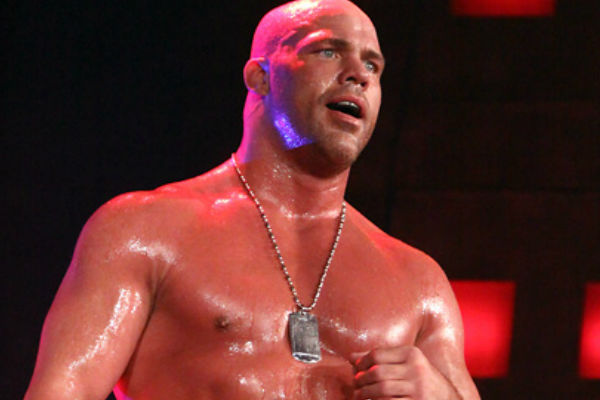 As we
previously reported
, Kurt Angle was set to make a big announcement related to some type of new relationship he has agreed to with Bellator MMA. This sparked all kinds of speculation online, specifically about the possibility of Angle making his mixed martial arts debut for the promotion. Instead, it turns out that Angle's role for the company will be much less than what people had expected. News broke on Wednesday evening that Angle has agreed to appear at a fan festival in St. Louis, Missouri in conjunction with Bellator 145. The event will be held on November 5, one day before Bellator 145 occurs at the Scottrade Center in St. Louis. Angle will also be appearing at the arena for the Bellator 145 show itself, but he will not be fighting. While some of Angle's fans may have been disappointed in this news, it is the right decision for Angle and his future. Angle has often spoke of a possible MMA career in the past, but the reality is a career in combat sports could be disastrous for a man who has had several health concerns over the course of his wrestling career. There's no doubt that if Angle had gone into MMA soon after winning an Olympic gold medal in 1996, he could have made a major impact and possibly became one of the top fighters in the sport at that time. MMA was still in its infacy in the 1990s and successful amateurs like Mark Coleman were dominating the sport. Angle's amateur wrestling career far surpassed that of many of the former amateur wrestlers who entered MMA. However, years of pro wrestling have taken a toll on Angle's body and part-time career in professional wrestling is certainly his best option at this stage of life.
Create Content and Get Paid
---