Kurt Angle Reveals Planned UFC Debut Opponent
New details on who the Olympic Hero was due to fight in his UFC debut.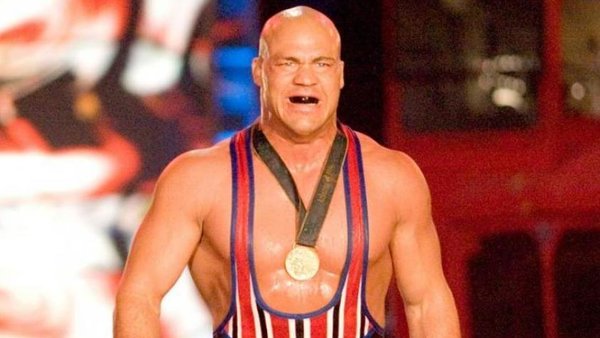 One of the great 'what if?' posers of the modern-day wrestling landscape, is what would've happened if Kurt Angle ended up in the UFC.
With his Olympic gold medal pedigree, there were several points in time where Angle was rumoured to try his hand at MMA, and now the Pittsburgh native has detailed that not just did he have talks with Dana White about fighting in the UFC, but that Dana already had Kurt's first opponent lined up.
Speaking on his The Kurt Angle Show podcast, Angle detailed talks he had with White once he'd departed WWE in 2006. Of course, the five-time WWE World Champion would end up in TNA at that time, but it appears there were some pretty serious talks about having Kurt compete in the UFC - and compete against Daniel Puder!
"He [White] wasn't very specific on saying we're going to protect you, but the opponent that he gave me at the beginning was a good opponent. Very intriguing from a public interest standpoint, especially from a pro wrestling fan standpoint. Very intriguing because he didn't have a lot of experience in MMA, he only fought a couple times, but I had a little episode with him in the WWE. That was Daniel Puder. When Dana said that to me, I said, 'Are you serious? Daniel Puder, that's all?' Not that I thought Daniel Puder was easy, because he actually had my arm trapped and he would have broken my arm when we did our little episode on SmackDown. I just knew that I could beat Daniel Puder."
Angle would go on to state how Dana White was looking out for him and caring about his potential MMA career, with Kurt proclaiming how Dana wanted to hand him a debut opponent who he had an extremely good chance of beating.
As for Daniel Puder, he was the winner of the fourth season of WWE Tough Enough back in 2004. There, he won himself a $1,000,000 contract that paid him $250,000 per year for four years. This prize allowed WWE to cut Puder after the first year, and the company would indeed let him go in September 2005.
Famously, Puder and Angle got into it on the 4 November 2004 episode of SmackDown. After Kurt had beaten Chris Nowinski, he laid down the genuine challenge for any other Tough Enough contestants to step in the ring with him for a shoot wrestling bout. Puder accepted this offer and ended up locking Angle in a kimura lock that would've broken the Olympic Hero's arm were it not for referee Jimmy Korderas quickly counting a faux pin to end this fight.
Create Content and Get Paid
---