Kurt Angle Reveals Why He Turned Down AEW
AEW wanted Kurt Angle, but he knocked them back. Now, the WWE legend has revealed why.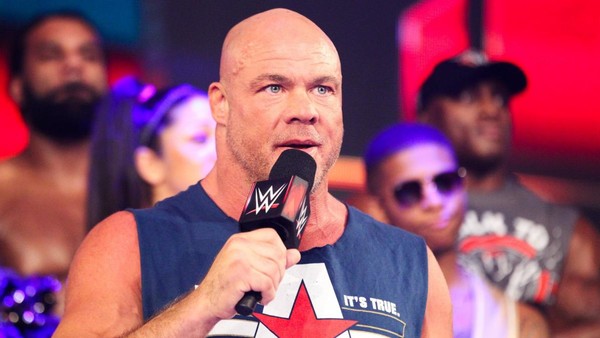 WWE legend and all-round former pro wrestling machine Kurt Angle has revealed exactly why he knocked back the chance to join AEW's revolution in both 2019 and 2020.
Angle told The Paradox Of Sports that he wanted to remain loyal to WWE and Vince McMahon for as long as possible. Further, Kurt knew he'd be able to work a few more deals with WWE despite being put out to pasture in a lame retirement match opposite Baron Corbin at WrestleMania 35.
The Olympian figured he still has some mileage left, business-wise, and he didn't want to jeopardise that by going elsewhere again - Angle had previously left the WWE nest in 2006. Joining TNA, he went on to have a successful run at Impact before returning to McMahon's juggernaut in 2017.
Kurt considered Tony Khan's offer, but he was never realistically going to sign it. The same went for several other (unnamed) deals that were on the table. To Angle, it was much more important to stay loyal to WWE and continue working on some non-wrestling stuff with the company.
It doesn't look like Kurt will ever be All Elite.
Create Content and Get Paid
---