Kurt Angle Says Vince McMahon Has "Wonderful Plans" For Him
Will the Olympic gold medalist get the chance to wrestle again?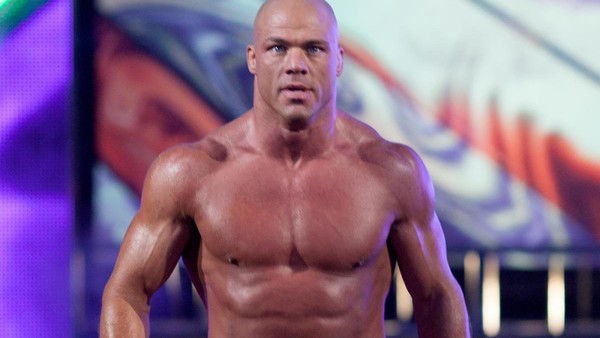 In the latest installment of Kurt Angle's ceremonious return to WWE, the Olympic gold medalist and 2017 WWE Hall of Fame class headliner is wondering, as are many of his fans, what his role in the company is going to be moving forward.
While Kurt himself has said that if his career never goes beyond his induction into the Hall and he isn't allowed to wrestle for WWE again, he'll be happy.
Angle's new interview with The Sporting News doesn't offer up any specifics on whether or not we'll see him in the ring again, but the details regarding his first meeting with Vince McMahon seem to offer up a healthy dose of optimism for those of us wanting him to have one last crack at it.
"I know, for sure, they want me to work in the company, most likely in a non-wrestling capacity. They know I've been active and they know that I can still go just as well as I've ever gone."
Does this mean we'll see him back in the ring in some capacity?
"We haven't talked about it but, I'm sure, in the back of their minds they're thinking we're going to release Kurt Angle on some of these talents in the future. It's not guaranteed and I have not talked to them about it at all. Seeing people like Sting and Goldberg come back to do some programs, it's promising that Kurt Angle will get a shot."
With WWE's willingness to put guys on part-time contracts - something that would benefit Angle's style and health greatly - as well as the prospect of a legion of dream matches waiting in the wings, it's hard to imagine WWE doesn't at least give him the opportunity to prove himself, if only as a special attraction.
Another possibility would be for Kurt to take over for the recently-fired Mick Foley and serve as co-General Manager of Raw. He and Stephanie McMahon have always had outstanding chemistry and the prospect of seeing them interacting onscreen together on a weekly basis is tantalizing.
Create Content and Get Paid
---