Malakai Black Debunks AEW "Conspiracy", Says He'll Return Soon
Absent AEW star hosts lengthy live stream, comments on wrestling status, future & more.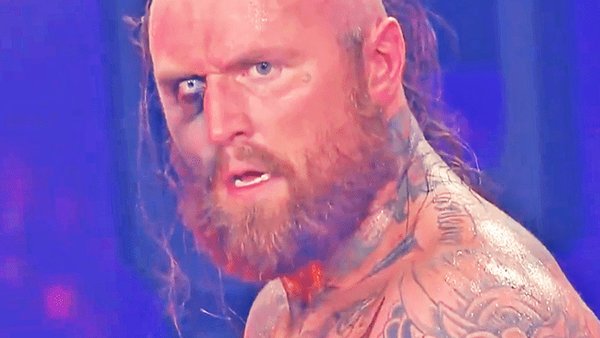 Malakai Black has claimed he will be back in All Elite Wrestling "pretty soon", having hosted a social media live stream designed at debunking the non-existent "conspiracy" surrounding his status with the company.
Black, whose future has been the subject of mass speculation lately, claimed that he is simply taking some time off. He referenced the statement he made on the matter last week, reaffirming that there is nothing more to his current situation beyond what he has put out there (h/t POST Wrestling):-
"Anyway, I will see you guys in a couple of weeks, maybe a couple of months. Like I said, I'm only taking some time off, that's it. Just taking some time off. There's no conspiracy to this. Just taking some time off, all right? I will see you guys soon, take care of yourself. Stop believing any other narrative. Like right now, I've debunked it. There's nothing going on. Don't believe these people. Don't write opinions, believe it, nothing. I'm fine, I'm going to be fine, everything is fine. You'll see me right back with AEW pretty soon. I'm just gonna take some time, that's it."
The House Of Black leader added that he didn't want his situation to turn into an AEW vs. WWE scenario, decrying the tribalism that defines much of modern wrestling fandom:-
"... Last thing before I leave, don't make me some instrument for this whole tribalism, us versus them thing because I don't do that stuff. I don't do the whole team AEW versus team WWE. I don't play that. To me, this is a business. This is genuinely a business in the sense of the way it's a business. This is my job, this is what I do for a living, this is how I've made my living for the past 12, 13 years of my life. I've been in the business since the 2000s. Okay, so thank you for those who have been supportive of me, thank you for your nice messages."
Rumours that Malakai wanted out of AEW first circulated in early September, when Raj Giri reported that amidst "concerns about his mental health due to personal life" and "demoralization due to the booking and handling of his character", the former Tommy End had asked for his release. Later, Fightful reported that some AEW talent believed Malakai had landed a "highly conditional" release from the promotion, though the door remained open for a return - although AEW had previously told the outlet that talk of Black's departure was false.
Later, Dave Meltzer reported that Black wanted to return to WWE.
Malakai, on his stream, claimed to have received death threats as a consequence of what had been reported about him:-
"Death threats? Death threats? You wish death upon a person because of what someone else says and it's confirmed? It's not confirmed, it's clearly not confirmed. None of it's confirmed. There's no confirmation because I haven't left. Luckily, I've been — and that's what this whole thing was about. I've been given time by Tony [Khan] to take care of a bunch of stuff. All this stuff has been cleared up like weeks, weeks ago. All this stuff was weeks ago and I posted that statement as a summary for you to understand why I took some off. Again, it's in the statement. It is in the statement. It's mind boggling — if this isn't enough incentive for you guys stop believing these people then I don't know what is… because again, if you were a part of this whole mob that went into, like I said, sending me a bunch of hateful comments based on the words of someone else and sorry but you're dumb. You're stupid and of course, again, does anyone understand that in the time where I'm going through this stuff and I'm kind of dealing with a bunch of stuff in a very productive manner, that-that doesn't exactly help?"
Black called for accountability and responsibility from outlets that had published what he states was false information:-
"And what I hate about it is that none of these dirt sheets will take responsibility. None of these guys will take accountability and say, oh sh*t, we f*cked up. I'm sorry. We probably should have not said that. He's going through some stuff. Maybe we should not, you know? Maybe we should not make all these basic assumptions because again, as it turns out, it's not true. None of its true. Not one single thing is true. So again, if you were a part of this mob that felt the need to even send me death threats then, thank you dirt sheets because clearly, those people, they don't care about my mental health, they don't care about your mental health. They don't care about your feelings, they don't care about my wife, they don't give a sh*t. All they want is dumb clicks for stuff that they're making up because they're trying to tie bridges between things that are no longer there. Tying things that don't exist."
Malakai has been away from AEW television since 4 September's All Out 2022 pay-per-view. House Of Black stablemates Brody King and Buddy Matthews wrestled Sting and Darby Allin at Grand Slam last week, seconded by Julia Hart.
Create Content and Get Paid
---