Michael Cole Takes A Shot At AEW's Tony Khan During WWE Elimination Chamber 2023
The WWE man couldn't help but take a dig at the AEW President at last night's PLE.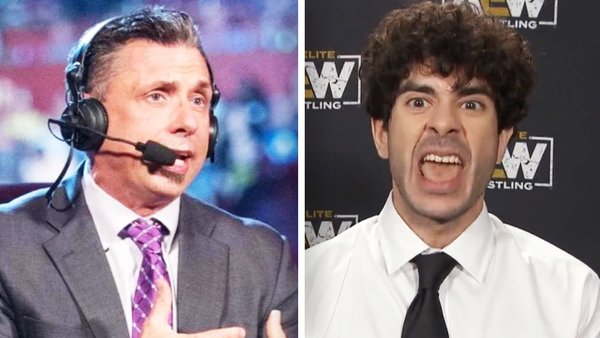 Last night's WWE Elimination Chamber saw Michael Cole take a playful dig at AEW's Tony Khan.
For those who missed it, Khan engaged in a bizarre beef with combat sports and pro wrestling journalist Ariel Helwani on Friday evening.
When Helwani was seen in the crowd for WWE SmackDown, the AEW President took to Twitter to lambast Ariel as a "fraud" and take a swipe at his "unbiased journalism". Previously, Khan had been a guest on Helwani's MMA Hour podcast in what proved to be an extremely uncomfortable interview where the AEW man refused to answer the majority of questions posed to him.
As to where Michael Cole comes into this, Helwani's presence in the Bell Center crowd last night was used by the WWE commentator to take a shot at Tony Khan's latest rant.
With Ariel shown alongside legendary fighter - and fellow Montreal native - Georges St-Pierre, Cole referenced Helwani as "the unbiased, world renowned combat sports journalist" who "asks all the hard questions, whether you want to answer them or not".
Michael Cole is a real one 🐐 pic.twitter.com/rmIZHmoWRZ

— WWE on BT Sport (@btsportwwe) February 19, 2023
For those not necessarily familiar with Ariel Helwani's work, one of his current jobs is covering WWE for BT Sport in the UK, and he has also recently done some voiceover work for WWE, such as narrating a hype video for this weekend's Elimination Chamber.