Nobody Will Do It For You: The Rise And Fall Of #DIY
A look back at the epic partnership and rivalry between two of NXT's absolute best.
Tommaso Ciampa's first role with WWE will forever be tainted.
Originally brought on to play the role of Thomas Whitney Esquire, he was the lawyer to Muhammad Hassan, a wrestler who would soon be fired after an already controversial terrorist angle coincided with the 2005 London bombings. Staying with the company for two years, he went through multiple names and gimmicks as he moved down the card into developmental and was eventually wished luck in his future endeavours.
Around this time Johnny Gargano was picking up his first jobber and security guard roles when WWE rolled into town but, after multiple try-outs, was continually denied a contract as he wasn't WWE material. Like Ciampa before him, Gargano went on to the indies and started to make a name for himself.
When the first Dusty Rhodes Tag Team Classic tournament came around in 2015, both were reintroduced to the WWE crowds as a tag team and found themselves working NXT shows for the next eight months unsigned, until they were eventually earned a so-called Tier 2 contract that allowed them to keep working dates for indie promotions.
Finally part of the biggest promotion in the world, they saw a chance to prove themselves and only needed a showcase.
10. Earning Their NXT Stripes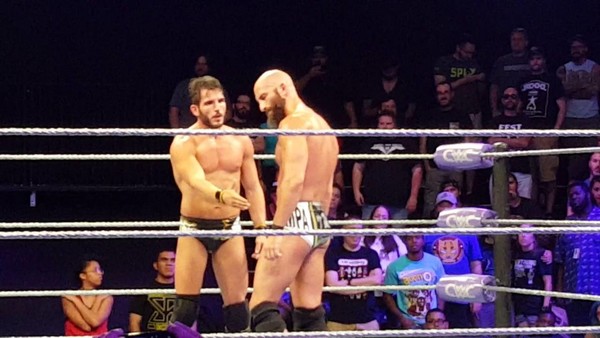 Despite proving themselves capable in the ring and popular enough with the crowds to earn contracts, the pair were still not seen as capable of becoming top stars in the company. A month later the tag partners were included in the first round of the Cruiserweight Classic where they faced each other.
With interviews before the match hinting at rising tensions between the partners, the crowd was immediately evenly split with battling chants for both men. Starting out as a mat wrestling showcase from Gargano, an elbow from Ciampa soon turned the tables and we saw how vicious the Psycho-Killer could be.
Back and forth they went, their knowledge of each other allowing them to preempt and counter each other's classic moves. And then, after an air-raid crash to the apron that Gargano kicked out of at two, Ciampa rolled down his knee-pad and hesitated. Gargano was prone, ready to be beaten, but Ciampa couldn't bring himself to do it.
Ciampa's mercy would eventually cost him the match as Gargano recovered and a series of counters ended with Johnny Wrestling rolling Ciampa up in a crucifix pin. And the combatants were left sitting in the ring, hugging each other with respect.
The nuanced storytelling and in-ring ability convinced NXT officials that they could operate at heights they hadn't credited them with until that point, and the Tier 2 contracts they'd signed only a couple of months earlier were upgraded to Tier 1, making both Ciampa and Gargano exclusive NXT workers.
[Continued: Page 1 of 10]
Mik Furie
After hearing that you are what you eat, Mik took a good hard look at his diet and realised he might just be a szechuan spare rib alongside prawn fried rice.
See more from Mik