Pat McAfee's WWE WrestleMania 38 Opponent REVEALED
This is who WWE SmackDown commentator Pat McAfee will face at WrestleMania.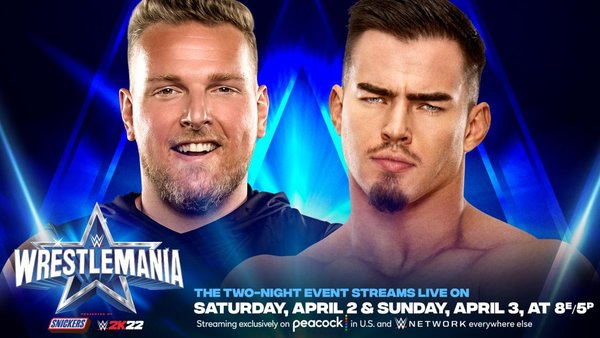 WWE has announced that Pat McAfee will meet none other than Austin Theory at WrestleMania 38.
Vince McMahon had been named as the frontrunner for McAfee's 'Mania bow, but the company has decided to go with youth instead. That, despite some grumbling on social media already, is hardly the worst thing. Who would fans rather see get a WrestleMania spot - 76-year old McMahon or a hungry young full-timer like Theory?
This announcement makes perfect sense then.
Austin has also been tied to Vince onscreen for months now, so it was logical when he showed up on Friday's SmackDown to get in Pat's face midway through the show. The pair exchanged words, Theory cuffed McAfee's headset off, Pat called him "a little bitch" and then Michael Cole later revealed that the showdown had been pencilled in for April.
It was a solid piece of business.
McMahon had appeared on the commentator's popular podcast midweek. During a lengthy interview, Vince handed McAfee a spot on the 'Mania card(s) and teased that he'd find him a suitable opponent. That, as it turns out, is one Austin Theory.