Paul Heyman Has Absolutely Nothing Bad To Say About Vince McMahon
Paul Heyman showers disgraced former WWE Chairman & CEO Vince McMahon with praise.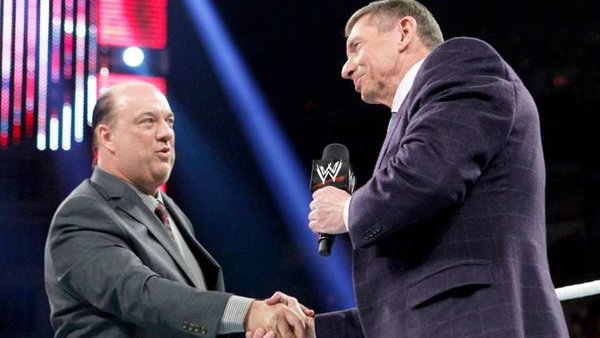 Paul Heyman has nothing but good things to say about former WWE Chairman and CEO Vince McMahon following the 76-year-old's 22 July resignation, which came amidst allegations the deposed executive had paid upwards of $12 million in "hush money" to suppress sexual misconduct allegations.
Speaking on MackMania, the SmackDown personality and ECW architect said that it would be hypocritical of him to say anything bad about Vince. McMahon's work ethic came in for particularly strong praise.
Said Heyman (h/t Wrestling Inc.):-
"I have absolutely nothing bad to say about Vince McMahon. What a hypocrite I would be to say anything less than extraordinarily complementary about that man. His work ethic, his willingness to put in 20, 22 hours a day, every day, seven days a week, 365 days a year for 40 years is why we are all fabulously wealthy, and will never get the credit nor the understanding that he deserves and that he earned."
McMahon became implicated in scandal through a series of Wall Street Journal reports in June, the second of which alleged he had paid $7.5 million to a former WWE wrestler he had coerced into performing sexual acts. On 25 July, WWE's Q2 2022 financial reports noted that per an investigation, McMahon had paid $14.6 million in "unrecorded expenses" between 2006 and 2022, necessitating alterations to previous years' reports. The Q2 2022 documents also referred to Vince leaving WWE as a "resignation", rather than the "retirement" McMahon had claimed in his parting statement.
Later, the WSJ reported that Vince was under investigation by the Security and Exchange Commission and federal prosecutors, hastening his departure from WWE.
Stephanie McMahon and Nick Khan have been appointed co-CEOs with Vince out of the picture. Paul 'Triple H' Levesque, meanwhile, is back in as an Executive Vice President - and WWE's head of creative.
Heyman told MackMania that WWE's new regime had his complete support:-
"Fully supportive of the new regime. They understand the task at hand and the people that are involved right now at steering this ship were prepared to steer this ship by Vince McMahon. When I took the job as executive director, I asked Vince, 'What is the greatest service that I can give this company in this role?' … His answer was, 'Get your successor ready in case you drop dead, because the show goes on with or without you.' And he looked me straight in the eyes and he says, 'Because the show goes on without me. With or without me.' And he meant it."
Heyman is believed to enjoy a good relationship with Stephanie McMahon. As a result of this, he has been rumoured for an increased role under WWE's new leadership.