Paul Heyman Teases Brock Lesnar's WWE Return
Did Paul E. just add more fuel to the fire of the imminent return of the Beast Incarnate?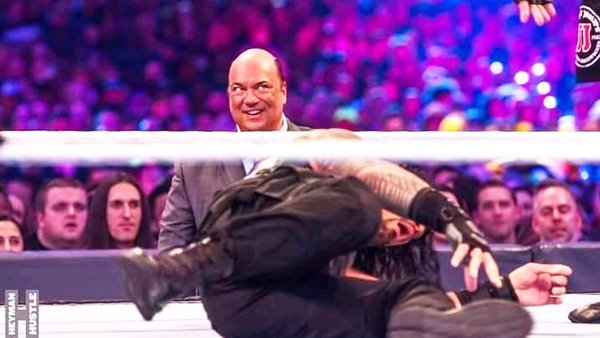 Few wrestling personalities enjoy teasing the masses quite as much as Paul Heyman, and now the former ECW head has set tongues a-wagging by simply changing his Facebook profile picture.
As of last night, Heyman changed his FB profile photo to one of him gleefully watching Brock Lesnar stand tall over a fallen Roman Reigns at WrestleMania 31 in a match that would ultimately see an opportunistic Seth Rollins walk out as WWE Champion - as in, the photo seen above.
Of course, that now has the wrestling business yet again buzzing about a possible imminent return for the Beast Incarnate, for another locking of horns with Reigns, and the poser over what would happen should Lesnar return to WWE while Heyman is serving at the side of the Head of the Table.
Brock Lesnar has been completely absent from WWE programming for well over a year now, last competing at WrestleMania 36 where he lost the WWE Championship to Drew McIntyre.
Technically, Brock is actually a free agent right now, with his WWE deal having expired in the middle of last year. Given the hefty money involved in renewing Lesnar's contract, it made sense that WWE would hold off on doing that until the company was able to start welcoming fans back into venues once more – plus there was also the topic of travel restrictions in place for the Canada-based Brock during the pandemic.
While Paul Heyman's Facebook change-up will have people talking about Brock Lesnar vs. Roman Reigns, more recent rumours and speculation suggest that WWE is keen to have Lesnar return to face WWE Champion Bobby Lashley at this year's SummerSlam on 21 August.
It's also worth noting that Heyman has now changed his Facebook profile to an image of him and Roman.
Create Content and Get Paid
---