Report: "Very Good Chance" Triple H Brings Classic WWE PPV Back
New report suggests Triple H wants to bring classic PPV into WWE's PLE rotation for 2023.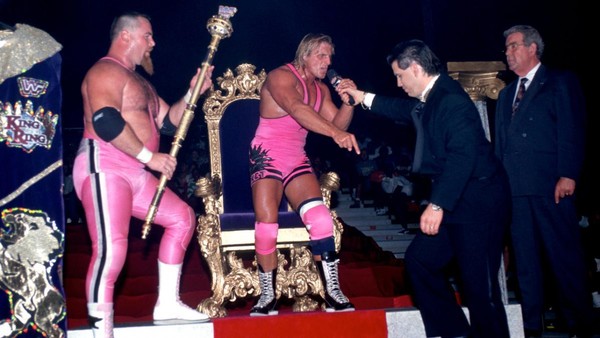 Paul 'Triple H' Levesque could be on the verge of reviving King Of The Ring in its classic WWE format.
Reporting in conjunction with GiveMeSport, WrestleVotes has claimed there is a "very good chance" of KOTR being revived in its late-80s format. This means a single-night, single-elimination tournament to crown a new King, rather than the less-focused formats WWE has used when running the competition in modern times.
Fans are unlikely to witness a throwback to the dates of the KOTR tournament's early rounds playing out on television, with only the semis and finals hitting pay-per-view. If the show returns, it'll be a one-night - says WrestleVotes.
Levesque is reportedly in the midst of rethinking WWE's annual premium live event schedule. Recently, the same outlets reported that Triple H wants to preserve the Hell In A Cell stipulation by ditching its annual show, saving the gimmick from overexposure.
Is WWE Bringing King Of The Ring Back?
WrestleVotes and Give Me Sport aren't the first to report on a potential King Of The Ring comeback. In October, Dave Meltzer wrote in the Wrestling Observer Newsletter that there had been talk of WWE reviving KOTR as its own show, featuring both the King and Queen Of The Ring tournaments.
If this happens, it'll be the first time KOTR has been a dedicated PLE/PPV since 2015, having been dropped from the regular rotation in 2002, when Vince McMahon decreed its numbers were weak.
King Of The Ring has since continued as a non-PPV/PLE competition. 2021 brought its last incarnation, with Xavier Woods crowned that October. A women's equivalent titled the Queen's Crown Tournament was won by Zelina Vega at the same time.
Before being scrapped in 2002, King Of The Ring ran as a regular pay-per-view every year from 1993 onwards. The likes of 'Stone Cold' Steve Austin, Bret Hart, and Kurt Angle all became major, headlining stars in the wake of winning it, though the tournament's rub has diminished over the past few decades in that it was no longer a guarantee of cracking the main event scene.
Nonetheless, putting KOTR back on the schedule would unquestionably satiate nostalgic fans.
Create Content and Get Paid
---