Ricky Starks Blasts AEW's Four Pillars: "I Hate The Idea..."
AEW's Ricky Starks once again rips into the company's 'Four Pillars' concept.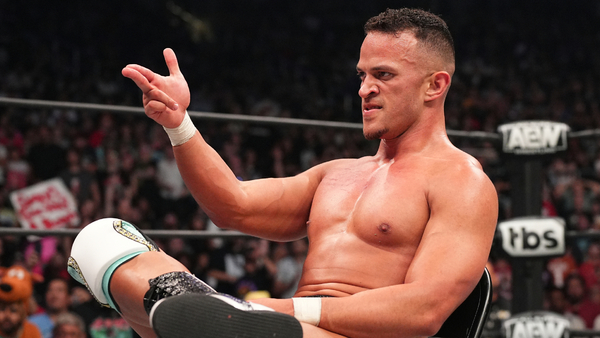 Ricky Starks remains unconvinced of AEW's 'Four Pillars' concept, which identified MJF, Darby Allin, 'Jungle Boy' Jack Perry, and Sammy Guevara as integral to the promotion prior to Full Gear 2021.
Speaking on The Corner Podcast, Starks effectively said that earmarking certain wrestlers as 'Pillars' undermined others. While he is flattered to be referred to as a "Fifth Pillar," Starks says he doesn't need the tag, calling it "a box within itself."
Said Starks (h/t Fightful):-
"I actually hate the idea of pillars. I loathe the idea of a pillar because one, it's a full gimmick, and it came from one guy who, there's nothing behind it. To say that these four dudes are the pillars of the company, you know what you're doing by saying that? F everybody else who did anything. Those people don't matter. It's these three guys that we've deemed, 'I have bestowed this sacred title upon thee, and I want you to go forth and do with it.' No, I don't believe in that. It's a very sweet gesture to say Ricky should be considered a fifth pillar. Baby, I don't need to be a pillar, okay? I can be a foundation. I can be the roof. I can be the person outside maintaining the lawn. I don't need none of that. To me, that's a box within itself. Four pillars, you got me, 'What? Four pillars? Four pillars of what? Name one coliseum that you know that's famous. I bet you couldn't even do that."
AEW's 'Pillars' contested the company's World Championship at Double Or Nothing 2023 this past weekend, with MJF successfully defending the strap on a four-way bout. Starks, meanwhile, was in the night's Blackjack Battle Royal, eliminating rivals Juice Robinson and Jay White.
This isn't the first time Ricky has talked about the 'Four Pillars' idea. He commented in February 2022:-
"To me, the whole pillar talk is hilarious in a sense, because it's so self-indulgent. It's nothing that was bestowed upon them. That was just something that came from them. So I usually don't think about it in that regard. Like, 'I'm not included in this.' Who cares? Because to me I'm gonna be much bigger than whatever the pillar is. I'm gonna be much bigger than wrestling, in a sense."
Last night's Dynamite saw Starks challenge Jay White to a one-on-one match on next week's show.