Roman Reigns OUT Of Wrestling WWE Hell In A Cell 2021
The Big Dog will NOT be competing on Sunday.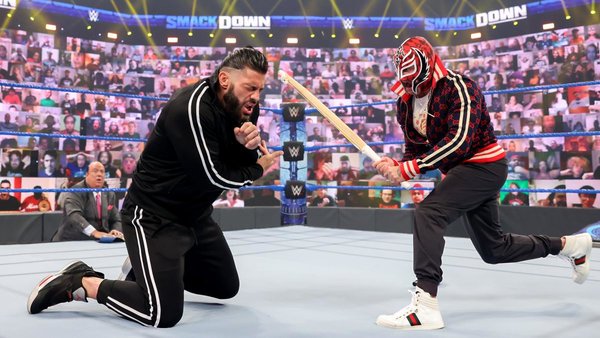 With WWE having announced how the Hell in a Cell match between Roman Reigns and Rey Mysterio has been brought forward to tonight's SmackDown rather than take place at Sunday's HIAC PPV, there comes an update on this contest.
As is so often the case when WWE makes such an announcement, many fans were presuming that tonight's SmackDown will see some sort of 'shenanigans' take place in order to still have Reigns vs. Mysterio happen on Sunday.
Seemingly that will not be the case.
In the latest Wrestling Observer Newsletter, it's reported that there are currently no plans for Roman Reigns to wrestle at Sunday's Hell in a Cell PPV.
The Observer notes how a creative meeting took place yesterday, which resulted in the call being made to bring Roman and Rey-Rey's cell contest forward from Sunday to Friday.
There's said to be no clear reason why that decision was made, but it could well be that WWE simply wanted to do something big in order to bring eyes to this week's SmackDown. Even then, though, you'd be forgiven for thinking this was all part of a bait and switch that would see the match really happen at Sunday's PPV.
As it stands, this leaves Hell in a Cell with just one match taking place inside the cell structure; that being Bobby Lashley defending the WWE Championship against Drew McIntyre.
Considering the PPV is just two days away and we only have four matches formally announced, of course, it seems likely to expect more Hell in a Cell announcements coming out of tonight's SmackDown.
Create Content and Get Paid
---