Roman Reigns Wants To Form A New Version Of The Shield?
Because the one thing wrong with The Shield is there isn't enough Samoans in it.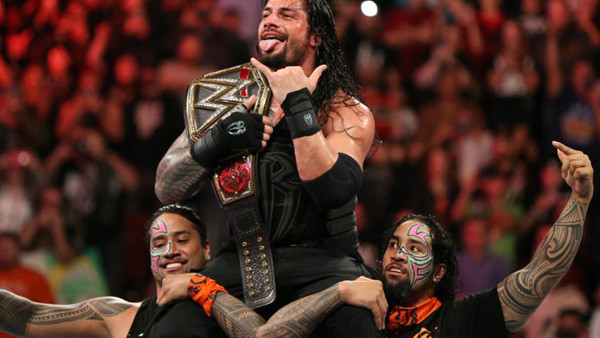 WWE have tried pretty much everything to get the fans to cheer Roman Reigns - they've reunited The Shield (even letting Kurt Angle & HHH cosplay in Roman's place for a bit), had him superman punch a 70-year old man, and now he's feuding with Jinder Mahal...nothing works. However, the man himself thinks he's come up with a great idea that actually could get a massive crowd reaction, the Samoan Shield.
Speaking to GiveMeSport's Alex McCarthy, when asked about following The Usos route and turning heel, Reigns revealed that he thinks there's a story there to create a stable with his real-life cousins:-
"I'm excited not only to see where they go but also where I go. You never know, the story is there, it's easy. We all represent the same bloodline, we all represent the same family, so it would be pretty cool maybe one day if there was a Samoan Shield."
Now you may remember we have had a version of this before. In 2016, when Reigns was feuding with AJ Styles over the WWE World Heavyweight Championship, The Club got involved so Roman called on his cousins to form The Bloodline and even out the numbers.
Granted that was all a bit rubbish and all it succeeded in doing was getting the crowd to boo The Usos who were just helping out a family member, but just imagine if they were to join forces nowadays, considering how over Jimmy & Jey are, and become a dominant heel stable.
Create Content and Get Paid
---