Ronda Rousey Confronts AEW Star On Indy Show
Tony Khan was surely watching ex-WWE star Ronda Rousey confront one of his roster.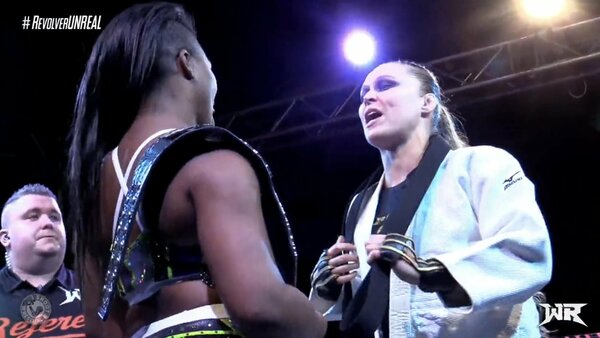 Former WWE star Ronda Rousey has started popping up on independent cards recently, and she just worked her second match since SummerSlam on a Wrestling Revolver Unreal show.
Rousey teamed with real-life pal Marina Shafir and went to a no contest vs. AEW pair Billie Starkz and Athena. The latter is particularly interesting - Athena is the reigning ROH Women's Champion, so there might be scope for a title match down the road.
Tony Khan would've been paying attention, that's for sure.
Ronda is currently one of the names on fan lips as a possible All Elite signing anyway. Tony announced that he'd reveal a newly-signed worker at Full Gear this weekend, and loads of fans think the 'Baddest Woman On The Planet' is in the running for that spot.
The match at Wrestling Revolver Unreal ended when Athena smashed Rousey with her ROH Women's Title. Fans there live seemed into the moment when Ronda and Athena went face-to-face, which is promising should they want to do more business.
Rousey reportedly cut a promo post-match thanking fans for their support and for coming out to see the show.