Rumoured WWE Returnee Still Dreams Of Being WWE Champion
Could this former WWE star return to the company and climb to the top of the mountain?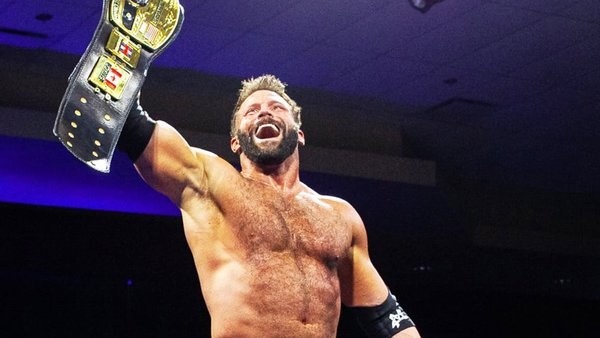 Heavily linked with a return to WWE in 2023, Matt Cardona has been discussing how he still dreams of becoming WWE Champion.
The former Zack Ryder addressed that topic during a recent appearance on Insight with Chris Van Vliet (as per Fightful), where he reiterated that climbing to the top of the WWE mountain still remains a major goal of his.
As Cardona explained:
"One goal, I've been saying for a long time, is to win the WWE Championship. That's not a lie. When I got released, the goal was not to get back to WWE. It wasn't, like, 'What can I do to make them notice me? What can I do to get back to WWE?' You can't think like that. I certainly can't. I would be lying if I said I never want to wrestle in Madison Square Garden again or I never want to have a WrestleMania match. Of course I do. WWE is number one. I'm not saying there is this plan to go back as soon as possible, but before I hang up the boots, I'd love to go b ack at least one time, for sure."
The Long Island native was one of the many names released by WWE during the COVID-19 pandemic, with Cardona and long-time partner Curt Hawkins/Brian Myers amongst those who were part of the 15 April 2020 round of cuts.
Since his 15-year WWE tenure came to an end, the one-time Intercontinental Champion has massively reinvented himself and become one of the hottest stars on the independent scene. Having competed for a bunch of different promotions across these post-WWE years, Cardona has notably had stints as the NWA Worlds Heavyweight Champion and infamously the GCW World Champion, plus has been a mainstay of IMPACT Wrestling and made a handful of appearances for AEW.
While it's one thing for fans to speculate over a WWE return for the self-proclaimed Death Match King, reports in November noted how Triple H would "100% take" Matt Cardona back to the market leader. The Game is said to have been impressed by what Cardona has done since leaving WWE, and just last week saw further reports that there is significant interest in bringing both Cardona and his wife Chelsea Green back into the WWE fold - with many fans expecting one or both of those to appear at the Royal Rumble next month.