Samoa Joe Calls For "Ridiculous" AEW Vs. WWE Arguments To End
ROH Television Champion Samoa Joe has no time for AEW vs. WWE fan squabbles.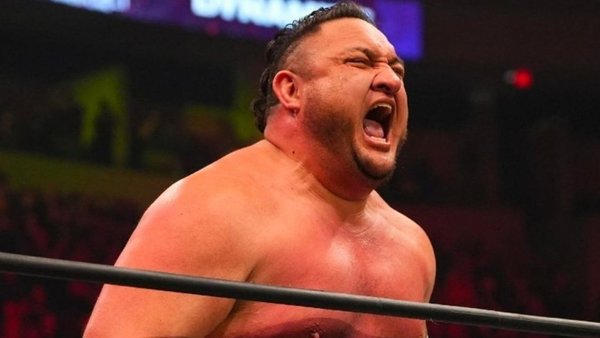 All Elite Wrestling star Samoa Joe has no time for modern wrestling's tribalism.
Speaking on the latest episode of AEW Unrestricted, the reigning ROH Television Champion clarified his previous comments on other wrestling promotions working together, while came while he was under WWE employ (h/t WrestlingNews.co):-
"Maybe my definition of 'Forbidden Door' and yours is different, but mine was always WWE, who, that door is still not open. If you're talking about co-promoting with like New Japan and other promotions and Ring of Honor, that's fine. But to me, that's never been considered a forbidden door. I co-promoted with Ring of Honor and New Japan years ago. It didn't turn out well. It wasn't a good collaboration. From that experience, that's what I base my experiences on."
From there, Joe touched on the increasingly nasty, aggressive nature of online wrestling discourse, which has been heightened since the advent of the Wednesday Night Wars in October 2019. Calling the constant bickering between AEW and WWE fans "ridiculous", the former NXT Champion said the conflict was an ego-driven problem:-
"I know this may blow up the narrative, but like, that's how I understood it. I'm not on the internet every day catching on all the buzzwords and getting with the revolution and stuff. I think the arguing between the AEW and the WWE fans is ridiculous. Watch pro wrestling. You don't need to dunk on this. It's you taking your ego, and taking something you have nothing involved with, and trying to start a conflict. I mean, watch what you watch, enjoy what you want to enjoy, but hey, I'm always going to be pro value for wrestlers, no matter what."
Joe has been with AEW since he was confirmed as a signing shortly after ROH's Supercard of Honor 2022 event on 1 April. Prior to that, he was employed by WWE between 2015 and January 2022, broken up by a two month period of unemployment when he was released in April 2021 and then brought back that June.