Samoa Joe Training With Batista
NXT star training with former WWE star.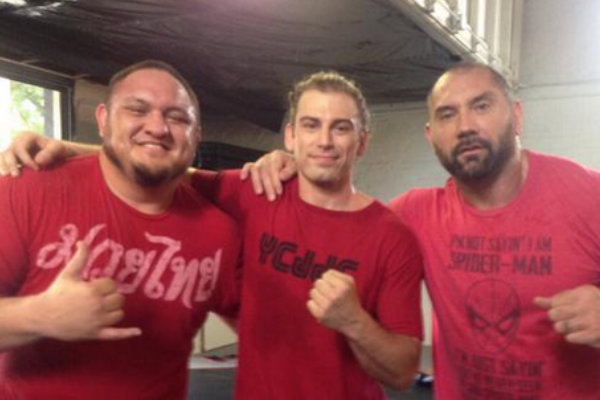 Samoa Joe is training muay thai and catch wrestling with Dave Batista. The NXT star posted the above photo to his Twitter account, saying "Training Day #MuayThai #CatchWrestling." It sounds more like an MMA session than an actual pro wrestling work out. Joe has trained in MMA for years, he isn't about to step into a cage any time soon, but he likes to keep fit with the training. He then works several MMA aspects into his pro wrestling work, which is partly why he comes across as so legitimate in the ring. Batista had a brief MMA career, winning his one lower league fight in 2012. He didn't stick around the sport due to his age. He's now 46 and completely focused on his successful movie career. He's expected to reprise his role as Drax in Guardians Of The Galaxy 2, which is scheduled for a 2017 release. Perhaps he's training with Joe to get into shape for that muscular role. As for Joe, he's a fully fledged NXT superstar now. He looks to still be on course for a big match with Kevin Owens at some point, and he'll be one of the centre pieces for NXT's big event at Brooklyn's Barclays Center the night before SummerSlam.
Create Content and Get Paid
---