Steve Austin On A WWE WrestleMania 39 Appearance: "To Be Determined"
Will Stone Cold be a part of WWE WrestleMania 39?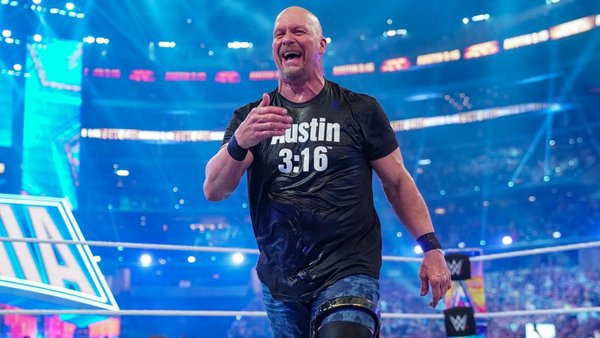 With WrestleMania 39 just two weeks away, 'Stone Cold' Steve Austin has discussed whether or not he'll be in action at this year's Showcase of the Immortals.
Speaking during a recent appearance on The Wrestling Classic (via WrestlingNews.co), the Bionic Redneck addressed whether he'd be lacing up his boots for a match at 'Mania 39.
As Stone Cold explained:
"I haven't heard anything. We're literally, as we speak right now, about two weeks away, and it's the biggest show of the year. Right now, I think WWE has got as good a roster as they've had since the Attitude Era. They got a deep roster, so I think many guys and gals need those coveted spots. They got plenty of names to draw from, plenty of talent to draw from. I think they should shine the light and the cameras on their current superstars."
While that would seem to rule out a match for Austin at WrestleMania 39, the WWE Hall of Famer was then asked whether he'll make an appearance in any capacity at the Granddaddy of Them All.
"To be determined."
Of course, Steve Austin came out of retirement at last year's WrestleMania to do battle with Kevin Owens in the main event of the event's first night.
Given how great Austin looked in that Owens bout, many have speculated that the Texas Rattlesnake may be tempted to compete at WrestleMania 39.
Reports from earlier in the year claimed that Stone Cold had been offered 'Mania matches against Brock Lesnar and Roman Reigns, though the six-time WWE Champion is said to have passed on both of those opportunities. As such, Lesnar now finds himself lined up to face Omos at WrestleMania 39, while the Tribal Chief will be defending the Undisputed WWE Universal Championship against Cody Rhodes.
Elsewhere, many fans have suggested that LA Knight would make for a great opponent for Steve Austin at the Showcase of the Immortals. Whether that was in a match or simply a promo exchange that leads to some physicality, standing opposite Austin would certainly give LA the WrestleMania Moment he's recently banged on about on SmackDown.
It's also worth remembering that the aforementioned Austin vs. Owens match was not announced ahead of time. Instead, the Texan was advertised as 'just' making an appearance on The KO Show, with the Prizefighter than admitting he'd lulled Austin onto his show in order to challenge him to an impromptu match.