Steve Austin's Next WWE 'Broken Skull Sessions' Guest Revealed
'Stone Cold' will be reunited with another old friend on the next WWE Network/Peacock special.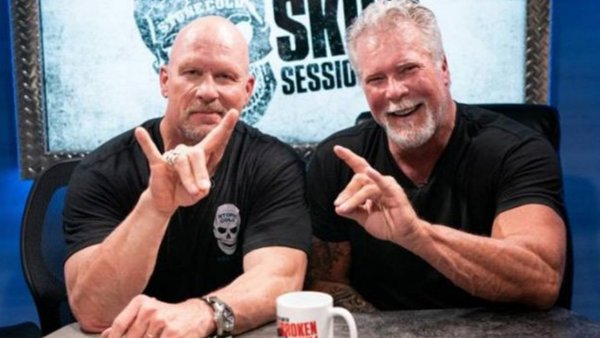 Kevin Nash will be the next guest on Steve Austin's popular 'Broken Skull Sessions' interview series.
WWE Network News had previously leaked info on the show by listing it for 11 July, and there's an image doing the rounds of Nash and 'Stone Cold' posing for the WWE cameras on-set. Now, fans can look forward to hearing from the former Kliq and nWo member.
Austin recently sat down with old friend Mick Foley for an in-depth chat about the legend's career in WWE, WCW, ECW and beyond. Steve's interview style is friendly-but-full-on, and that won't change when 'Big Sexy' sits across from him next weekend.
If anything, it'll be cool to hear some fresh perspective on the Kliq's domineering rule over the WWF locker room back in the mid-90s - Austin wasn't quite the megastar he'd become in 1995-1996, and he probably has some interesting stories about how Kev conducted himself in the locker room during that period pre-WCW jump.
Nash isn't one to mince his words either, so this could be a sleeper hit. Don't be shocked if the pair down a few shots of JD in tribute to The Undertaker too; that's become a 'Broken Skull Sessions' trope.
Create Content and Get Paid
---