The 8 Faces Of Kenny Omega
7. Golden Lover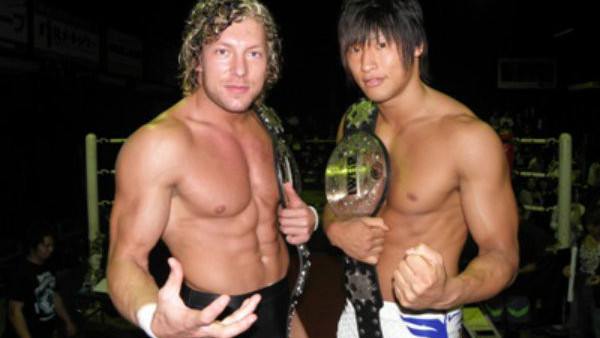 Ibushi and Omega began their rollercoaster relationship in DDT as opponents. They tore up every ring they were in and competed in heart stopping matches across Japan. As sometimes happens, formidable opponents made perfect partners and the Golden Lovers were formed in 2010. The pair would go on a tear, winning tag titles in various promotions including winning the IWGP Junior Tag Titles.
Their style was awe inspiring, as Kenny had finally found someone as freakishly athletic and flippant with their own safety as he was. The liquidity with which these two performed was on full display as they flowed through seamless combinations and breathtaking sequences. The duo also began to illustrate their vicious sides as their moveset began to escalate in brutality.
However, their relationship began to fragment as it became obvious Kota Ibushi was the star of the tag team and picked to be a huge name in Japan. Kenny, on the other hand, was in danger of becoming the Marty Jannetty of their duo and it became a real fear if the duo split, that Kenny would disappear.