The Bloodline IMPLODES At WWE Night Of Champions 2023
The Usos make a surprise appearance... but it doesn't go well for anyone.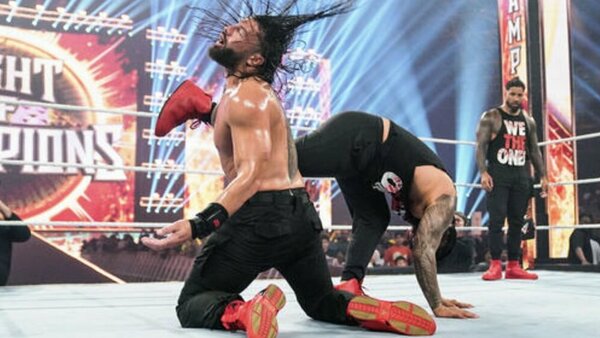 We've all seen the cracks forming for what seems like forever in the Bloodline, but Saturday might have been the moment the group as we know it crumbled to the ground.
Jimmy Uso turned on his Tribal Chief, superkicking Roman Reigns and forcing his brother Jey to leave with him, presumably turning their backs on the Bloodline.
The drama ramped up during the Undisputed WWE Tag Team Championship main event of Night of Champions. With the referee knocked out and the nearest replacement ref apparently riding from Riyadh via camel, the Usos hit the ringside area to attack Kevin Owens and Sami Zayn. But while trying to take out Zayn, the brothers booted their own brother, Solo Sikoa.
When Roman saw this, he became livid and started shoving the Usos. But he finally went too far, and Jimmy superkicked him twice, pleading with Jey to stand with him rather than the Tribal Chief. Moments later, Roman and Solo lost their tag title match, leaving Reigns to lament his fractured empire.
WHAT JUST HAPPENED?!?!? 😲😲😲😲😲😲#WWENOC pic.twitter.com/WH00MPpTjl

— WWE (@WWE) May 27, 2023
We've seen the Bloodline drama play out over the course of several months, with Sami turning on Roman at Royal Rumble and Jey walking out for several weeks, then more recently with Reigns becoming furious with the Usos' inability to regain the tag titles or generally do anything right.
But now, it seems like things are finally steamrolling ahead, with the Usos potentially on the way out. That raise some serious questions about the future of the group and Roman's grip on the Undisputed WWE Universal Championship, as he has increasingly relied on the Bloodline to retain the title.