The Day WWE Monday Night Raw Died
Beating a dead horse. Or as Vince McMahon would script it, kicking a colt's cadaver.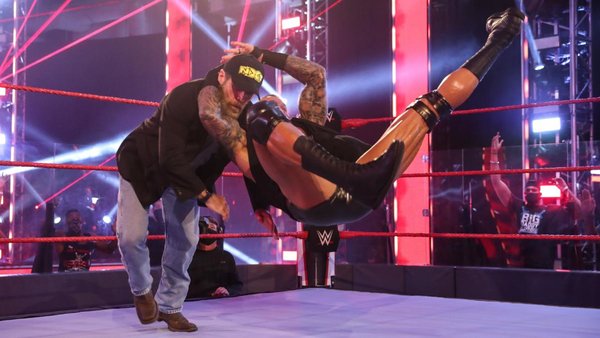 (Ahead of tonight's Raw Is XXX 30th Anniversary special, here's a retrospective look at their last celebration of the red brand's legacy as a USA Network staple. Raw 25 took place in January 2018, but the impact and ramifications of that shockingly bad show were still being felt when this piece was written in mid-2020, as they are today. Enjoy!)
________
Imagine last Monday's Raw not being the night the show died.
Or last week's. Or next, for that matter, and so not to date this. WWE are trapped in a spiralling vortex of their own making, and it brings your writer absolutely zero joy to report this. The ThunderDome is exciting right now, but then so, sort of, was the empty Performance Center for a few weeks. As was Raw's set looking like a skate ramp, or the company bringing back pyro right around the time AEW Dynamite was set to start on TNT. Millions of LEDs on all those light-boards won't tell better stories, and until the company find a way to do that, no aesthetic adjustment will be the answer.
And what a grim pity that is. At its peak, the product is an exhilarating escapist form of entertainment like no other. Everybody hates everybody else in pro wrestling, from the performers themselves to every last fan account on Twitter, but almost all agree that those that don't get it simply just don't get it.
Yet we all do, and what a blessing that should be.
It didn't feel much like one during the August 17th edition of the show, nor August 11th, nor (*throws dart at 2020 calendar*) the April 27th one. The former flagship is on an historically bad run of late, but then with no functioning heart nor blood rushing through it, what chance does it have? We are all here to talk about the day it died, after all.
CONT'D...