The One WWE Gimmick That Was Too Offensive Even For Vince McMahon
Even Vince McMahon draws the line at outright Nazism...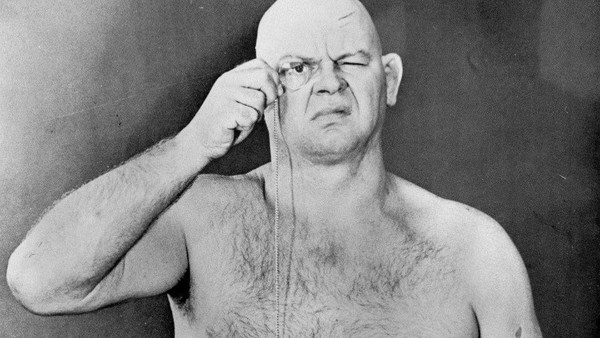 Nazism has been exploited to generate heel heat in professional wrestling on many occasions.
Baron Von Raschke goose-stepped his way to the ring, spoke with a heavy German accent, and adorned his attire with swastikas. He was one of his era's most notorious heels and found great prosperity in the '70s, scoring notable championship victories over the likes of Ricky Steamboat and Dick the Bruiser, with the latter playing himself up as the American hero to thwart the hated German menace.
Before Von Raschke, Karl Von Hess worked a Nazi sympathizer gimmick in the '50s and is credited as one of the first wrestlers to take the concept nationwide. He got the idea from Kurt Von Poppenheim of the Pacific Northwest territory. Born in Quebec, Canada but billed from Munich, Germany was Guy Larose, whose Hans Schmidt persona didn't throw up Nazi salutes and decorate himself in dubious iconography, but inspired hordes of others to do so as his German heel gimmick drew massive heat across the United States.
'The German Juggernaut' Blitzkrieg is the most noticeable example. Pennsylvania schoolteacher Kevin Bean attracted mass criticism when Pro Wrestling Sheet's Ryan Satin shared clips of his German Cross-carrying character in July 2018, subjecting him to a full investigation from his employers.
Each of the above drew levels of controversy appropriate for their era. None, however, would have compared to the outrage sparked by Baron Von Bava had this insane character made it out of WWE's creative room...
CONT'd...