The Rock Vs. Roman Reigns Was "Locked" In For WrestleMania 39
The Rock finally reveals what WWE were cookin' for last year's WrestleMania...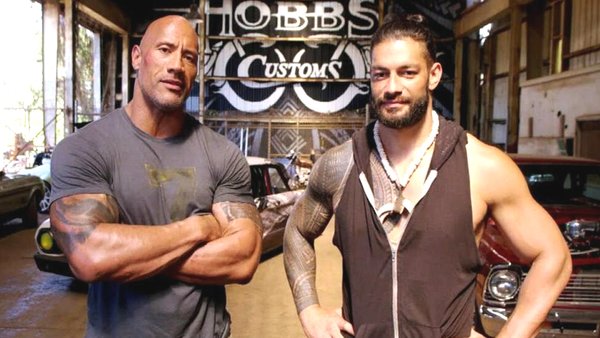 The Rock was "locked" in to wrestle Roman Reigns at WrestleMania 39.
During an appearance on The Pat McAfee Show yesterday, 'The Great One' finally revealed that there were plans in place for a blockbuster match between himself and his cousin at last year's 'Show of Shows':
"The Rock headlining WrestleMania with Roman Reigns, SoFi Stadium, that was locked. We were doing it."
According to the multiple-time WWE Champion (via F4WOnline), a meeting went down all the way back in early 2022 between himself, Nick Khan, and Vince McMahon. And it was during that conversation when the three agreed on a Reigns vs. Rock showdown at the following years 'Mania.
'Rocky' made it clear that he didn't want to simply show up and have a match, though, he wanted to "do something unprecedented" in this latest WWE comeback:
"We can have the match but the bigger thought was what can we do for the fans of this business that we love where WrestleMania isn't the end of something, it's actually the beginning of something bigger?"
The Hollywood superstar would then add that they unfortunately "couldn't actually nail what that thing was." So, everyone involved eventually decided to leave that potential showdown for another time.
This then led to 'The People's Champion' explaining that a battle in Philadelphia at WrestleMania 40 was something he'd be "open" to if they could figure out an idea that can give fans something "unprecedented" and help the boys and girls in the locker room going forward, too.
Put simply, it sounds like next year's WrestleMania could potentially be an electrifying one.