The Rock's 10 WWE World Championship Reigns Ranked From Worst To Best
The Rock won a WWE World Championship on ten different occasions. Which reign is 'The Great One'?
Before becoming a successful actor in Hollywood, Dwayne 'The Rock' Johnson used to be a professional wrestler. And you know what? He was pretty good at it too.
Almost exactly two years after making his WWE debut as Rocky Maivia, The Rock won his first WWE Championship by defeating Mankind in the final match of the Deadly Games tournament for the vacant title. His last (to date) came almost fifteen years later, when he defeated CM Punk at Royal Rumble in January 2013.
Throughout his ten reigns, 'The People's Champion' had memorable matches, segments and promos with the likes of Mick Foley, Triple H, Kurt Angle, Chris Jericho, Brock Lesnar, CM Punk, John Cena, and of course, 'Stone Cold' Steve Austin. He made a name for himself in the wrestling business as not just a perfectly fine athlete, but in particular as the most charismatic wrestler ever.
For that reason, The Rock has all the right to be considered one of the best WWE Champions of all time, if not the best.
Sit your candy ass back and relax as we rank each and every one of The Rock's electrifying World Championship reigns from worst to best.
10. WWE Championship (10th) 27 January 2013 - 7 April 2013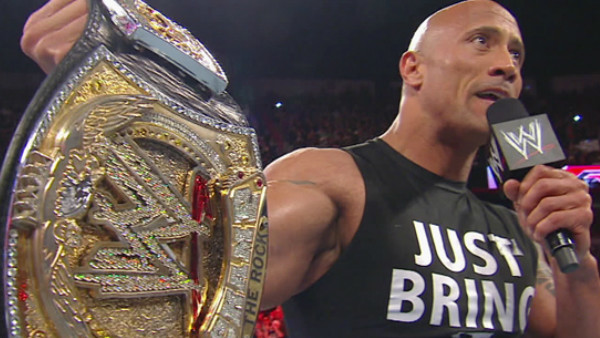 Having wrestled his last match at WrestleMania XX in 2004 and making his last live appearance on WWE programming later that year, The Rock finally returned to WWE in early 2011 to host WrestleMania XXVII. One year later, 'The Great One' defeated John Cena in the main event of WrestleMania XXVIII in Rock's hometown of Miami.
On RAW 1000 in July 2012, The Rock announced to the world he would challenge for the WWE Championship at Royal Rumble in January 2013. At the event, he defeated CM Punk to win his eighth WWE Championship (his tenth World Championship overall), more than ten years after his ninth.
After defeating Punk in a rematch at February's Elimination Chamber and unveiling a new championship belt, the 'Brahma Bull' lost the title to John Cena at WrestleMania 29 in a rematch from the prior year. The reign wasn't bad (none of them were), but the fact that CM Punk's historic WWE Championship reign ended to set up the 'Once in a Lifetime' rematch makes his last reign the worst in the legendary wrestling career of 'The Great One'.