THIS Is Really The Best Wrestling Storyline Happening Right Now
Kenny Omega Vs. Hangman Page, or the Roman Reigns and Usos familial saga?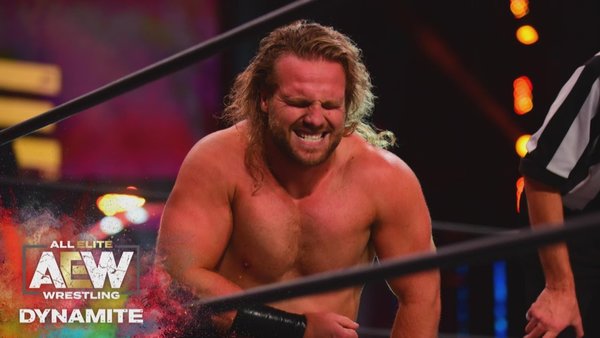 Hangman Page is the best babyface in an industry driven by the chase and primarily financed, in 2021, by the vehicle with which the chase is mapped: episodic television.
Page is relatable in a way unique to these times. In an age of profound uncertainty made worse by the fact that the worst people are the most assured of all of us, the 'Anxious Millennial Cowboy' is haunted by his own failures. In glorious parallel, the fans are constantly reminded of his successes. Page has remained a consistently ranked singles star. He is a winner. This is no trite underdog story. He just - until recently - could not believe in his abilities nor his self-worth.
Looking out of pretty much any window on this hellscape, who can?
That's why he is so relatable. Page is a man who could not think of himself as 'Elite'. He sh*t the bed at All Out 2019 because the Young Bucks in refusing to corner him didn't think him elite either, and after a complex, layered saga, he sh*t the bed at All Out 2020.
The pathos extends to his megalomaniacal rival, too.
Kenny Omega is playing a caricature of a North American television wrestling star because, from day one, he was forecast to fail as a North American television wrestling star. They said he was too irreverent, that he did know how to cut promos, that he couldn't get away with doing 45 minute New Japan-style matches on TV (as if moving away from that style wasn't something he actively wanted to do). He had "left his wrestling heart in Japan," as Jim Ross opined throughout his losing streak in 2019.
CONT'D...(1 of 6)