THIS Is Really The Best Wrestling Storyline Happening Right Now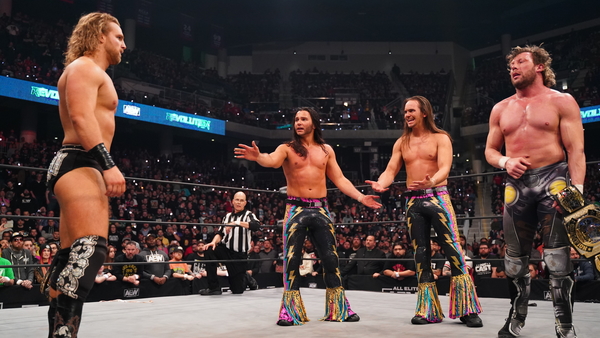 And when he did fail, in a deliberate long-term arc that allowed Chris Jericho to legitimise the AEW World Title and act as a bridge to more casual-leaning fans as 'Le Champion', he continued the path he mapped in 2018 of changing the world with his friends by his side. Beaten and exposed by Jon Moxley, Omega ventured into the tag ranks alongside a reluctant but aimless Adam Page. Together, they formed a phenomenal in-ring team bonded by their excellence and the idea that, perhaps, these men were so closely linked because Page might be the one pro wrestler capable of one day surpassing his partner.
They never got on personally, and the fractures within the Elite stable exploded to arrive at the seminal AEW World Tag Team Title match at Revolution 2020. Page was revealed to be the true babyface across those spellbinding 30 minutes - who used whose finisher, and who didn't? - but tensions eased as the Elite once more bonded to thwart the Inner Circle in the last chapter of the rivalry that defined the first year of Dynamite. Those tensions eased without healing. Buried within an irreverent build towards the main event of Fyter Fest 2020 Night 1, Omega negged his partner. Discussing which team was most united, Page and Omega or the Best Friends, Omega said he could count on one hand the amount of "drinking buddies" Page had. "I'm the only one," Omega continued.
"These guys can't even drink the same drink," Trent deadpanned. FTR drank the same drink, and as part of their masterplan to shatter the Elite and win the tag belts, they pretend to befriend the alcoholic over the summer of 2020. Page once more revealed himself to be the babyface at that year's All Out. He atoned for f*cking over the Young Bucks by mirroring the exact manner of his betrayal to save Omega from a superplex. It did not work; FTR won, Page had become poison in his mind, and he only found the antidote through his wholesome, restorative friendship with the Dark Order.
CONT'D...(2 of 6)