This WWE Legend Is "Buying Back" His OWN Merch
Ex-WWE star admits he's been busy on eBay looking for his own merchandise.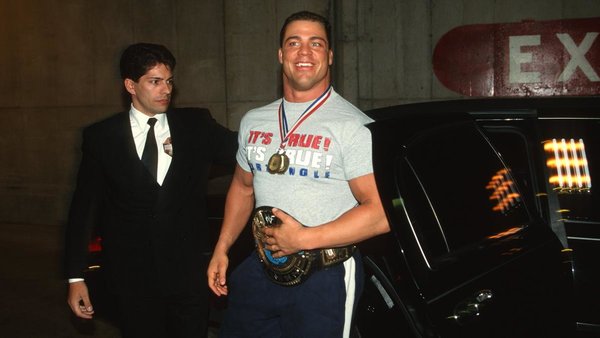 Kurt Angle has revealed that he's currently in the process of buying back his own WWE merchandise.
Via his podcast, the legend admitted that he and his wife regularly scour eBay and other online marketplaces looking for classic items from his in-ring career. Why? Well, because Kurt declined to keep anything from his run - his wife couldn't believe that, because she wanted their kids to be able to look back on their father's accomplishments.
Angle had already given away 99% of his merch and keepsakes to various charities and pro wrestling Hall Of Fame auctions. Now, 20+ years on, he's on the hunt for his own stuff. Wow.
Kurt is specifically interested in old t-shirts, vests, hats and other goodies. Cohost Conrad Thompson asked if Angle was looking for his old ring attires too, but the ex-World Champ said no; he donated that sort of one-off item to charity for a reason, and doesn't expect to get it back.
T-shirts like the old "It's True! It's True!" design though? Yeah, Angle's wife wants her some of that. Somebody at WWE needs to dip into storage and help Kurt out here.
Create Content and Get Paid
---